Photos and Poem by Debbonnaire Kovacs, posted May 19, 2016
When first the sun begins to warm the earth,
Calling my heart to stir from the torpor of dim winter,
I go to my garden.
It is still and quiet, no green beginning yet.
Last year's oak leaves lie like a crumpled brown blanket,
Keeping worms warm.
In my prayers, I whisper faith to the Great Creator.
"I know," I say, (though in truth I am not certain)…
"I know you will bring sun again, flowers again.
I will breathe again.
You said so, therefore I know…"
I try to convince myself.
The days slowly lengthen, the world turns faithfully.
Green bits appear, and the ground loosens enough to till.
(I love tilling!)
My blood is less sluggish, and I almost believe the brown, woody bits
I hide in the ground might contain life
After all.
Tiny and round, or long and pointed, brown or black or Styrofoam white,
The seeds lie where they fall.
They don't look alive…
The world turns faithfully, and the nights shorten.
I start to rise earlier and more easily.
I poke around among perennial clumps, and stir the oak leaves.
Green! There! Well, it's a weed, of course, but still!
Green!
This year, April had no showers, and May's flowers hang limp heads
Under relentless rain.
Rain, and mud, and rain, and a flooded basement and barn,
And more rain.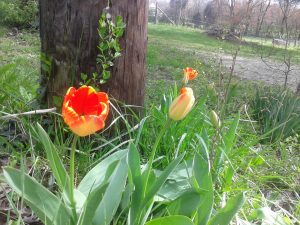 But there is green.
Indubitably, green has arrived.
I check the garden in my soul.
Mud, rain, remnants of tearful floods…
Yet, there is green.
And flowers.
Spring lives, and the Great Creator smiles.
---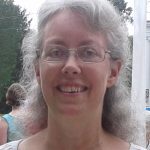 Debbonnaire Kovacs is a speaker and the author of 25 books and well over 600 articles and stories  for adults and children. She lives and works on a smallholding in central Kentucky. You can learn more about her and her work at www.debbonnaire.com.