by Thandazani Mhlanga  |  13 April 2021  |  
One of my pandemic readings was a book about Winston Churchill, in the context of World War II. I came across this statement that stopped me in my tracks.
"In wartime," Mr. Churchill said, "truth is so precious that she should always be attended by a bodyguard of lies." 
The longer I thought about it, the more truth I saw in this: whenever and wherever war breaks out, the first casualty is always the truth. 
The statement is true of all wars, those fought on planet earth and those waged in heaven. Let us consider the longest and most significant war known to humankind: the conflict between good and evil has been raging for the entirety of known human history. Even in the context of The Great Controversy, a bodyguard of lies accompanies The Truth.
Since this spiritual war began Satan, who has been on the losing side, has made it his goal to go down with as many of God's children as satanically possible. God, on the other hand, has purposed to save as many as are willing. If, by any chance, you are wondering how God's plan works, Paul and Silas articulated it well: "Believe in the Lord Jesus, and you will be saved" (Acts 16:31).
The plain truth about God's plan of salvation is that the only condition necessary for salvation is faith in Jesus. But that truth is, unfortunately, sometimes accompanied by a bodyguard of lies, or at least disputable half-truths. Unmasking and eliminating the bodyguard of half-truths is a personal responsibility, even though some of the bodyguards arguably have corporate support. 
A friend of mine used to say that while there are numerous ways to draw a crooked line, there is only one way to draw a straight line. Similarly, there are multiple ideas about what one ought to do to be eligible for salvation. 
I believe in the benefits of conversation, that raising questions will help us to make the personal decisions that God requires of us. I am convinced there is more meaningful theological growth in talking and praying our way to the truth, than when we bully and fight our way to the truth. 
With that in mind, I want to raise three questions about what many—even churches and denominations—declare as necessities for salvation. I would assert that the jury is still out on the relationship of these three items to salvation as the requirements to be saved were articulated by Paul and Silas, as well as in the gospels and by Jesus himself.  
Denominational affiliation
Is pledging allegiance to any denomination essential for salvation? There have been times when I have had someone accept Jesus as their Lord and Savior but have reservations about joining the Seventh-day Adventist Church. "Pastor," the last person I encountered asked, "can you baptize me into Christ and not into your church? I am not ready to join any church at this time, but I need Jesus."
What role does denominational affiliation play in God's great plan of salvation? Should my allegiance to my denomination become a requirement for kingdom citizenship?
Behavior
Anyone who has been a Seventh-day Adventist long enough will know that lifestyle issues tend to determine who gets to belong and participate in church life. 
Is someone a child of God and a kingdom citizen only after they stop struggling with all habits or addictions—for example, after they quit smoking or become vegetarians?
At what point in someone's "quit smoking plan" are they good enough for baptism? Is the acknowledgment and desire for a lifestyle change good enough? Can someone be thoroughly Christian and still battle addictions and bad habits?
Theological understanding
Does someone have to embrace my theological views on the state of the dead, jewelry, and other distinctive doctrines to be legitimately considered a Seventh-day Adventist Christian?
I can still recall like it was yesterday a high school student saying to me, "I can't consider myself a Seventh-day Adventist because I do not know the 2300-day/year prophecy." 
Should a solid, peer-approved theological understanding of all of our doctrinal teachings be a prerequisite for accepting Jesus and acceptance into His family?
Who you believe God to be
Every Christian has to wrestle with these questions for him or herself, of course. Whichever answer you settle on will determine how you interact with people in your sphere of influence. And those interactions matter because, through them, you declare whom you believe God to be.
Let us keep in mind Malcolm Muggeridge's words from his 1972 book, The Green Stick. Says Muggeridge, "In the beginning was the Lie and the Lie was made news and dwelt among us, graceless and false."
Whatsoever we hold on to that is not the truth about God will quickly prove to be graceless, and consequently dangerous. But I will remind you again that there is only one condition for salvation mentioned in the Bible: "Believe in the Lord Jesus, and you shall be saved!"
---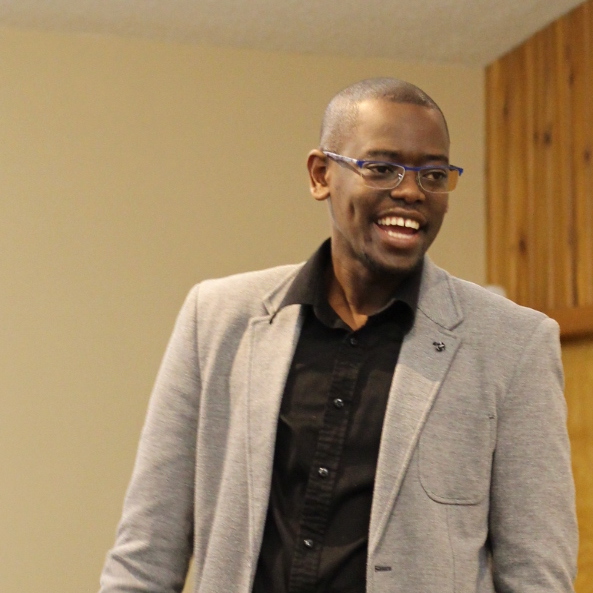 Thandazani Mhlanga is a pastor, educator, speaker and author serving the Osoyoos Church in the British Columbia Conference. Pastor Thandazani and his wife, Matilda, have been blessed with three daughters, who are the joy of their lives and their highest calling. His website is themscproject.com.