By Briana Pastorino, Media Relations Specialist, LLUH, posted by Debbonnaire Kovacs, Feb 18, 2016
Editor's note: Last week we ran a story about a bioethics event at Loma Linda which included a quote from Brad McPherson, director of environmental safety, as saying that they are in the process of building two new buildings, in part because of the requirement that they be seismically sound by 2020. So when I received the following story only days later, I asked Briana Pastorino, LLUH's media relations specialist, if this was in connection with that same building project. She replied, "You are essentially correct. We are building a new adult hospital because the existing one will not be seismically compliant for inpatient care come 2020. We are also building a new children's Hospital tower, which is just an expansion of the current Children's Hospital. The current Children's Hospital is seismically compliant, however; we are just expanding it."
Read on for a praiseworthy story of some fundraising for Loma Linda's Vision 2020 campaign which includes this Children's Hospital building project. DLK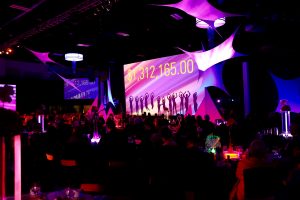 RIVERSIDE, CA., February 12, 2016 – The 23rd annual Loma Linda University Children's Hospital (LLUCH) Foundation Gala presented by Hard Rock Hotel Palm Springs raised an astounding $1,312,165 last night. Proceeds from the event, held at Riverside Convention Center and themed "Illuminate: The Path to Vision 2020," will benefit the Vision 2020 campaign to build a new Children's Hospital tower.
"We are grateful to each and every individual and organization who made the success of the gala possible," said Jillian Payne, executive director, LLUCH Foundation. "The continued support allows Loma Linda University Children's Hospital to illuminate hope and healing in our community."
The program opened with a special performance of "This Little Light of Mine" and the national anthem by the Mount Rubidoux Seventh-day Adventist Children's Choir.
Chef Robert Irvine, host of Food Network's "Restaurant: Impossible," was the celebrity guest and assisted with the live auction portion of the evening, along with auctioneer Jim Nye. Irvine also visited with patients at the hospital prior to the gala, and he shared his experience with gala guests, encouraging them to spread some generosity.
With some assistance from Irvine, Nye led the live auction. Two suite experiences at Staples Center, donated by Konica Minolta, garnered the highest bids at $14,000 each.
Event emcees, K-FROG's Heather Froglear and her daughter, Peyton, 8, shared their story of hope and healing at LLUCH. Peyton underwent open heart surgery, performed by Dr. Leonard Bailey, at just two weeks old.
Another patient who benefited from treatment at LLUCH was 2-year-old Mariah Salomon from the Coachella Valley. In August last year, a large portion of Mariah's face – from the top of her nose to the top of her lip, including a large part of her cheek – was re-implanted after she was bitten by a dog. The team of doctors who treated her agreed that re-implanting her facial tissue was probably the most intrinsically rewarding case they'd ever done. Three weeks after the incident, Mariah was able to go home. Mariah and her mom, Veronica Pena, were recognized on stage during the gala. [See Mariah's story in video form here. DLK]
Also recognized on stage were a few awardees:
Candace Ransom, founder of Medals of Courage, was presented with the Hometown Hero Award
James and Rowena Ramos: Light the Path Lifetime Achievement Award
Clare Sheridan-Matney, MD: Shirley N. Pettis Award
Antranik Bedros, MD: Outstanding Clinician Award
Entertainment for the evening was provided by The Silhouettes who earned worldwide acclaim on season six of "America's Got Talent." They created beautiful shadow imagery and an inspirational story line of a young girl's journey through life after receiving care at LLUCH.
The evening concluded with a check presentation that lit up the room. Loma Linda University Medical Center CEO Kerry Heinrich expressed his appreciation to the supporters of LLUCH after the event.
"Our Children's Hospital is a place where hope lives for patients, parents, families and friends," Heinrich said. "Thank you for choosing to illuminate a path worth taking. You are a vital source of strength and power – a building block for our bright future."
You can see more photos as well as a video here.