Introduction by Debbonnaire Kovacs, posted March 23, 2016
The idea, apparently, has been around a few years. According to Influential Marketing Group (IMG), "In 2007 an association of about 50 Honda dealerships based in the Southern California area launched a bold experiment. Faced with the reality that customers generally rate car dealers among the least trustworthy people in business, Honda and their agency at the time had an idea to change that perception. The "Helpful Honda Dealers" concept was to prove Honda Dealers were helpful by sending them out into the community in light blue polo shirts to do everything from washing customer's cars to paying for parking all day in Old Town Pasadena while covering meters with blue Honda signs saying 'It's on us.'"
The "Guys in Blue" took the concept and ran with it. The stories of the people they have helped are diverse and intriguing. Read about some of them here and here. You'll also be able to click on some of their radio and TV spots.
Did it work? According to the IMG site referenced above, "Just over a year later, AdAge magazine reported that the campaign had helped local Honda dealers close the trust gap against Toyota in their region and increase likelihood among consumers to visit a Honda dealership. As far as local dealership campaigns go, this was certainly enough to declare success."
That wasn't enough for the SoCal Honda dealers. Apparently, one reason we haven't heard more of this nine-year-old idea is that for some years they suffered badly from funds. Recently, Honda decided to put their money where their mouth was, commit millions of dollars, and give regional agencies more autonomy.
Again, the "Guys in Blue" ran with it. Now, they've stepped up to do more than help individuals. For the first time, they chose an entire hospital—and the hospital they chose was Loma Linda University's Children's Hospital Neonatal Intensive Care Unit.
You can read the complete story below, as sent to me by Briana Pastorino.
An aside: Since my firstborn spent some time in a NICU unit in Ohio, I have a particular soft spot for the work of those angels who care for our tiniest and most fragile children, so I wanted to pass this on right away.
LLU Children's Hospital NICU featured in first hospital TV spot for SoCal Honda Dealers' "Random Acts of Helpfulness"
By Briana Pastorino, Media Relations Specialist, LLU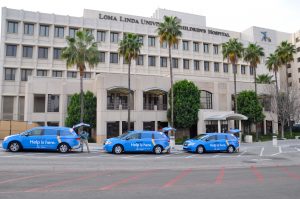 LOMA LINDA, CA., March 17, 2016 – Loma Linda University Children's Hospital's (LLUCH) neonatal intensive care unit (NICU) is featured in the latest Southern California Honda Dealer's "Random Acts of Helpfulness" campaign. The television commercial is the first to feature a hospital in the campaign. Both TV and radio spots launched this week and will run through May 1.
In the SoCal Honda commercial, the men and women in blue delivered three vanloads of equipment to the NICU, including specialized thermometers and stethoscopes, privacy screens, blankets, mobiles, bouncy seats and a rocking chair. All items are those that can be used by nurses and parents of babies being treated in the NICU.
"We are beyond grateful for the donations made by the SoCal Honda dealers," said Tristine Bates, RN, director, LLUCH NICU. "The new equipment will definitely enhance our nurses' ability to provide quality patient care to their tiny patients and will provide parents with an extra sense of comfort."
Jennifer Gingras, a NICU nurse at LLUCH submitted a letter through the Help Me Honda website, requesting items she and other NICU nurses needed. About three weeks later, she received a call from the Helpful Honda people stating they would fulfill her request.
"I couldn't believe it was actually happening," Gingras said.
Also a mom to a baby who was treated in the NICU at LLUCH, Gingras knows firsthand what moms and nurses need on the unit. She attributes her experience at LLUCH to becoming a NICU nurse. "We care for about 80 babies, and can always use more equipment."
"Her story perfectly embodies the spirit of Helpful Honda," said Lauren Kay, spokesperson for SoCal Honda Dealers, "giving back to an organization, in this case Loma Linda University Children's Hospital, that helped save her son 27 years ago, inspiring her to become a NICU nurse."
Since 2007, the SoCal Honda Dealers have been committed to lending a hand in the community and surprising residents with unexpected Random Acts of Helpfulness. Why? Because it's their job to be helpful – no strings attached.
Last year, the SoCal Honda Dealers began sharing their Random Acts of Helpfulness on TV to continue helping people who truly need a hand. Residents are encouraged to share a request for help through Help Me Honda, which is exactly what Gingras did.
Watch the Helpful Honda people as they made a special delivery at LLUCH here.
For additional photos, click here.