By Maylan Schurch, February 14, 2016: It's
8:21
Sunday
morning, and the first One Project session is about to start. We're sitting at large round tables covered with a dark cloth. Each table seats ten people, and we've all been given a sheet of paper containing three or four discussion questions which relate to each of the speakers. For example, once Paul Dybdahl speaks on. "Passion Week: Why It Matters," we'll discuss questions like "How do you imagine the days of mystery during Jesus' life were filled? With amazing miracles? Insightful sermons? Were most of Jesus' days quite ordinary?"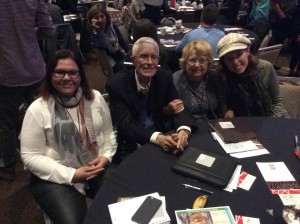 I got here early, and had a long conversation with a man who'd driven up from Oregon with his wife. He told me how he's concerned about the effect unfriendly Adventist churches have on those who attend, especially the young people. He told me that he has a good feeling about the spirit in the room.
I just discovered I'm sitting at the same table as William and Noelene Johnsson! Bill is one of the presenters; he'll be speaking on "The Meaning of the Death of Jesus."
A woman who used to attend my church — but who left with her husband to help with a church plant — just tapped me on the shoulder and greeted me. I asked her, "Is this your first One Project?" "My fourth," she said. I asked, "Why do you keep coming back?" She replied, "Because each time I get more excited about Jesus, and I feel more encouraged about our church."
To read part 3 of Maylan's report, click here.