---
9 June 2021  |
To the editor,
Re your Spring 2021 issue of Adventist Today: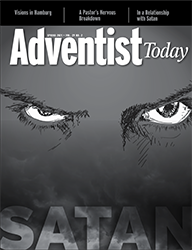 It was interesting reading about the "Hamburg Seers" because I was living in Hamburg at that time and remember the meeting to decide about them. I was young then, and everything seemed a little spooky to me. I had not taken the whole situation very seriously and totally forgot about it. But it was interesting to read about it.
The first thing I did when I received the magazine was to tear off the strange cover. I did not want to look at it. Some of the articles were "out of the box," but I understand that this magazine is an open forum to express all kinds of thoughts, which often are quite challenging but good to contemplate.
Humor is good and necessary, but the write-up about the plans of the General Conference (in Barely Adventist, "Expect Altar Calls to Be Longer, More Frequent") was absolutely tasteless.
I noticed lately that the magazine is printed on rather expensive paper. From my own experience of buying paper, the prices have increased considerately. I wonder whether using this type of paper is responsible stewardship.
Thanks for reading my thoughts.
Blessings to you all,
Silvia Bokich
Portland, OR
---