By Stefani Leeper and Suzanne Ocsai, July 12, 2015:   Young adults who attended the recent General Conference (GC) session of the Seventh-day Adventist Church in San Antonio, Texas, were able to attend daily meetings specifically for them. The worship and community service activities–together called Mission Impact–were hosted by the North American Division (NAD) Youth Department and was the official youth program of the GC Youth Department during the General Conference Session.
For the first ten days of July, Mission Impact worked with the purpose of "igniting a global community of leaders to first and foremost follow Jesus Christ and to use the unique gifts and abilities God has given them to share His love" in a global context, said pastor Ben Lundquist, one of the event's coordinators. "It is a platform to be a catalyst for a community to change the world in the name of Jesus."
Impact enables young people to act as the hands of the Seventh-day Adventist Church, explained James Black, director of Youth Ministries for the Adventist Church in North America. It helps them to touch others in the community.
Impact San Antonio, as the program is also called, is a platform targeted at youth aged 18 to 35, and its aim is to help young adults recognize that they have a calling in the story of the redemption of Jesus Christ.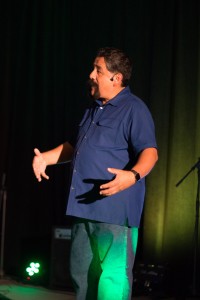 Morning and evening Impact programs were held in the Marriot Rivercenter across from the Henry B. Gonzalez Convention Center, which was used as an exhibit hall during the GC session. Speakers included Tara VinCross, Sam Leonor, David Asscherick, Raewyn Hankins, Rebecca Davis, Tricia Wynn, Eddie Hypolite and Jose Rojas.
The programs began with worship music performed by various Christian artists, including Aussie Billy Otto, Lola Moore and Juniper. Praise music was followed by life messages—sermons sometimes combined with Bible study—by various pastors (yes, that's gender inclusive). Impact also featured a four-night drama production of the Great Controversy.
The general message of the programs is that everyone has a calling and a purpose in Christ. These callings can be in the church, and they can even be in spreading the gospel of Christ through the liberal arts. Explained Lundquist, "God has gifted you as young adults. You have a calling, and as a church we want to support and surround you to really live out the calling God has for your life."
The real inspiration for the youth in discovering and nurturing their calling came in the afternoon when they were able to do hands-on mission work in the city of San Antonio. In a series of 15 community projects, youth were enabled to flood the streets, working with hundreds of community service organizations and various churches already active in community outreach. "It's like a combined week of summer camp, short-term mission project, and camp meeting experience all put together in one," summarized Lundquist. "You really can live out the calling Jesus has for you; you can make an impact."
Sabbath Sofa (July 7, 2015)
The Sabbath Sofa, a concept that began in England under the Trans-European Division (TED), made its American debut in downtown San Antonio as part of Impact San Antonio. Sam Gungaloo and Ana Costescu, self-described "faces" of the Sabbath Sofa project, made guest appearances.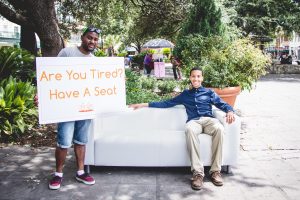 The Sabbath Sofa, explained Gungaloo, began with a team of 3 pastors: himself, Vili Costescu and Sam Neves. In the never ending rush of London,"we needed to find a way to engage the public; we needed to offer them something that could transform their lives," said Gungaloo. The answer that they found is the Sabbath. "What we're doing is presenting it in a more palatable way for the public to enjoy the message for themselves."
Youth involved with Impact held signs asking people to take a seat. When passersby would take the opportunity to rest on the sofa, Impact participants would start by asking their guests if they would like to have 24 hours in a week, say from sunset Friday to sunset Saturday, to rest. (Who wouldn't?) In this way, the guests were introduced to the principles of the Sabbath, a less direct approach that may be less likely to turn off listening ears.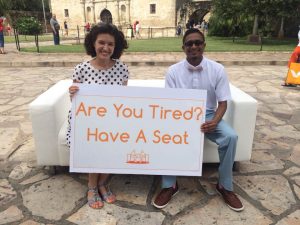 "Success is measured by all those who sit on the sofa," Ana Costescu stated in a personal interview. "We ask them, 'Is this something you would be interested in? Would you like this in your life? Do you need this?' and they all say 'yes.' Everybody needs the Sabbath."
The Sabbath Sofa "was the beginning of one woman's journey to getting to know God. She changed her job and stopped working on the Sabbath," related TED's Katie Allen, who was covering media on the project,
"That's why we do this," concluded Costescu.
One Year in Mission (July 5, 2015)
One Year in Mission, a youth leadership program, offered 45-minute training events to wrap up Impact's morning sessions. The four-day process, lasting from July 6 to 9, provided Impact delegates and other youth with mission training. The activities were led by 13 of 14 delegates, the representative of the Middle East and North Africa Division unable to attend.
One Year in Mission was implemented by the General Conference Youth Department and is geared to get youth involved in missionary work by building missionaries in local fields. Each division has one delegate in the program, and these representatives traveled to New York and stayed there for six months to see what youth missions looks like today in terms of life lessons and leadership skills.
After the time spent in New York, the delegates then returned to their home countries in order to implement and replicate what they learned in New York. The program consists of 4 phases: (1) New York; (2) target cities in each division; (3) a union program; and (4) a conference program.
The title is somewhat misleading because One Year in Mission is not about giving a year to mission work; it is about building a lifestyle, Anthony Stanyer, one of the 13 attending delegates, explained to Adventist Today. This lifestyle is built through three major components: community service, friendship or care groups (wording determined by location), and communication, including social media outreach.
Care, or friendship groups, are implemented in areas that are not necessarily Adventist and are currently based within busy cities, although they are not limited to those areas. The exact mission work depends on the context of the culture. In Vietnam, the care group shares Jesus and the gospel through music.
"To be mission leaders in their respective contexts, they need to first know what they are passionate about, and through that passion evolves a response to God's love in sharing His love in a practical way," Stanyer elaborated. "It's about empowering youth to be an independent leader to cater to the needs of the community in a positive way," he concluded. "They are bridging the gaps between Jesus and people…even between religious affiliations like Adventism and Islam."
To learn more about One Year in Mission and to view a summary of the workshops conducted at the 2015 General Conference, visit Impact's blog.[1]
The Haystack (June 9, 2015)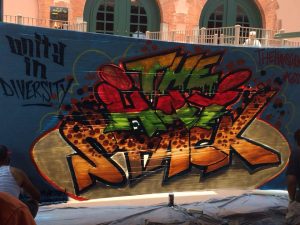 On June 9 at San Antonio's Sunset Station, in its first General Conference participation, The Haystack served up approximately 1,100 haystacks in an attempt to break the Guinness World Record for the world's largest potluck, reported The Haystack TV over social media. While the count was just short of the required minimum of 1,275 to break the record, the event demonstrated that everyone can literally bring something to the table.
Working with Impact and partnered with Young Adult Life and Adventist Christian Fellowship (of the North American Division), The Haystack attempts to reach young adults through social media and to be the "Buzzfeed of the Adventist world," claimed Pastor Zach Payne, who also contributes to The Haystack.
Stefani Leeper and Suzanne Ocsai are both members of the team of journalists that covered the General Conference Session for Adventist Today. Leeper is a journalism student at Union College in Lincoln, Nebraska, and Ocsai is a published author, living in Chattanooga, Tennessee, preparing to pursue graduate work in journalism.
Related Article
Juniper: A Promise of Restoration (Suzanne Ocsai, July 11, 2015)
– – –
[1] https://impactsa2015.tumblr.com/