Unvaccinated workers at Adventist Medical Center Manila must take COVID-19 tests every 2 weeks.
The hospital will pay for 50 percent of the cost of the tests through December.
In January 2022, unvaccinated employees will be responsible for paying the entire cost of the tests.
09 December 2021 | Leaders at the Adventist Medical Center Manila in the Philippines recently said in a letter to all its department heads that unvaccinated workers must undergo RT-PCR testing for COVID-19 every two weeks, beginning Dec. 4, 2021.
Employees are not allowed to go to work unless they can provide proof of vaccination and/or have a negative RT-PCR result. If an employee is unable to do so, they will have to miss work.
Absences would be covered by the employee's available sick leave credits. If the employee did not have any sick leave, vacation credit could be used.
However, in cases where there was neither sick leave nor vacation leave available,  the "no-work, no-pay rule shall apply," read the letter.
The hospital, more commonly known as Manila Adventist Medical Center (MAMC), and formerly as Manila Sanitarium and Hospital, said it would subsidize 50 percent of the RT-PCR swab tests for the month of December, but starting Jan. 1, 2022, 100 percent of the costs would be charged to the employee's account.
According to a Bloomberg article, PCR tests can cost as much as 3,000 to 5,000 pesos (about $59-$99, all numbers in USD). Nurses at a private hospital in the Philippines make an average salary of 10,000 pesos a month (about $198), according to the Philippines' Department of Labor and Employment.
MAMC's decision is in line with the the government's new mandate that came into force on Dec. 1, 2021. According to the new rule, businesses must require employees to be vaccinated against COVID-19.  Unvaccinated employees must undergo regular testing for the virus at their own expense in order to go to work, reported Bloomberg.
COVID-19 vaccines are widely available in Metro Manila, the nation's capital. However, the Philippines has one of the lowest vaccination rates among major economies, with just 41 per cent of the population inoculated.
Of the 35.5 million essential workers across the country, only 13.2 million were fully vaccinated as of Nov. 28, 2021, according to government data.
Outside the capital region of Manila, widespread logistics challenges, from storage to transportation and distribution, were some of the reasons cited for the nation's low vaccination rate. Vaccine hesitancy was also named as a factor in the Bloomberg article.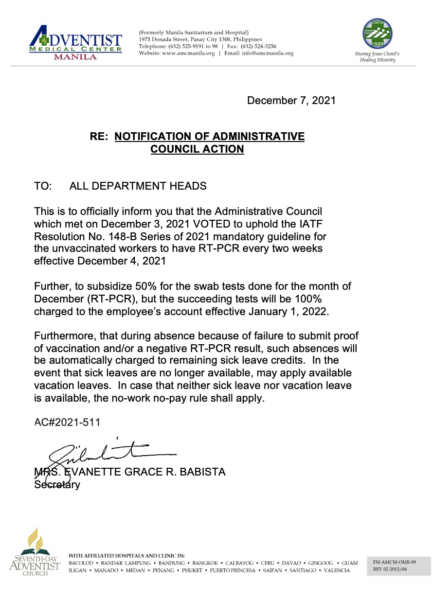 ---
Before you go…

Your generosity is the reason we can offer accessible, independent journalism and warm, encouraging community to Adventist Today readers worldwide.




It's 2021 Year-End Fundraiser time at AT and we are counting on YOU to help us continue growing. We've significantly grown the depth of our news reporting as well as our international reach in 2021.


AT is constantly recruiting writers and commentators from around the world. We've added lots of Spanish-language content and our Spanish-language AT Sabbath Seminar Latin America is a hit with millennials internationally.
This kind of growth is impossible without your support.
Thank you for giving generously to build the future of AT.
Donate to AT by clicking here: atoday.org/donate
(Photo: Adventist Medical Center Manila is requiring all unvaccinated employees to undergo COVID-19 testing every two week. Beginning in January 2022, unvaccinated employees will have to pay the full cost of the tests. Photo via Adventist Medical Center Manila Facebook page)