09 June 2022 | GC Health Director Peter Landless chimed in with some advice for delegates early on June 8, 2022/GC Session Day 3: Get up and move during the three-minute waits that are required for electronic voting on each motion. It wasn't a bad idea, considering the dense day of recommendations, debate, and voting ahead.
Outgoing General Conference (GC) Vice President Ella Simmons chaired an intense morning packed with GC constitution and bylaws debate and amendments. The hotly anticipated nominating report on recommendations for division (world region) presidents kicked off the afternoon session (chaired by GC Vice President Artur Stele), followed by the presentation in the evening session (chaired by GC Vice President Abner De Los Santos) of the names of division secretaries and treasurers.

Toward the end of the evening session, Nominating Committee Chairperson Lowell Cooper confirmed that the committee had wrapped up its work for this GC Session. Perhaps unsurprisingly, not a single woman was voted in as division president, secretary or treasurer.
Check out all the voted positions here: https://www.gcsession.org/voted_positions/
Discussion started on a recommendation to amend the GC Constitution and Bylaws to more clearly define the membership of the GC Executive Committee and who is invited to attend. There was a motion to amend the

Constitution and Bylaws

to eliminate the phrase "for cause" in relation to the removal of committee members. The motion sought to instead define "for cause" in the context of the GC Executive Committee (item 207).

Here are some specific reasons justifying removal (from the Constitution and Bylaws agenda item 207): "1) incompetence; 2) persistent failure to cooperate with duly constituted authority in substantive matters and with relevant employment and denominational policies; 3) actions which may be the subject of discipline under the Seventh-day Adventist Church Manual; 4) failure to maintain regular standing as a member of the Seventh-day Adventist Church; 5) theft or embezzlement; or 6) conviction of or guilty plea for a crime." 

Delegates spoke out against the motion, as many were concerned power to remove members "for cause" could be used to silence those that disagree with the GC party line. Opposition from Europe, Africa, and South Asia focused on language allowing for removal of Executive Committee membership due to failure to comply with policy. 

@VPNiXON (Andrews University's VP for Diversity & Inclusion Michael T. Nixon, who is himself a GC Session delegate) tweeted, "The lengthy discussion on this Constitutional amendment mainly displayed, in my view, the distrust that the GC has brewed in some areas of the world over the past 10+ years. Even seemingly good things are being second-guessed. Past maneuvers have consequences."

An overwhelming majority of delegates voted in favor of amending this language—1,319 voted yes (82%); 289 voted no (18%).

On a different note, there was a motion to vote to amend section 1 of item 208 giving permission for only one postponement of GC Session in the future (the current session had been postponed twice due to COVID concerns). Delegates didn't make a decision on this and instead requested further clarification.

A motion to amend section 5 of item 208 handling voting practices to ensure the highest integrity was voted through: 1,583 yes votes (97%) to 49 no votes (3%).
The Nominating Committee announced these votes for Division Presidents:
Robert Osei-Bonsu, President, West-Central Africa Division (

non-incumbent)

Daniel Duda, President, Trans-European Division (

non-incumbent)

Roger Caderma, President, Southern Asia-Pacific Division (

non-incumbent)

Ezras Lakra, President, Southern Asia Division

Harrington Akombwa, President, Southern Africa-Indian Ocean Division (

non-incumbent)

Glenn C. Townend, President, South Pacific Division

Stanley Edilson Arco, President, South American Division

Yo Han Kim, President, Northern Asia-Pacific Division (

non-incumbent)

Alexander Bryant, President, North American Division

Mario Brito, President, Inter-European Division

Elie Henry, President, Inter-American Division

Blasious M. Ruguri, President, East-Central Africa Division
The Nominating Committee asked for an extension of the term for the Euro-Asia Division's current officers, including president Mikahil Kaminskiy, until Annual Council 2022 due to circumstances in the division. Delegates approved this extension—1,489 voted yes (97%); 45 voted no (3%).
A motion was voted through (1,313 voted yes (97%); 42 voted no (3%)) to replace the word "mission" with "section" when referring to "union mission" or "local mission/field" to accommodate regions where "mission" is a point of sensitivity that could prove counterproductive to church work (item 212).

A motion to amend chapter 8 of the

Church Manual

to incorporate the assistance of members with special needs into the duties of deacons (item 415) was approved—1,244 voted yes (97%); 42 voted no (3%).

There was much discussion on the somewhat controversial motion to add a new section to chapter 8 of the

Church Manual

on the importance of the Spirit of Prophecy and adding a Spirit of Prophecy Writings Coordinator to each Adventist church. Many were concerned that misunderstandings would lead to White's writings being considered superior to the Bible. In the end, 943 voted yes (66%) and 480 voted no (34%) on this motion.

On a related note, Union College Assistant Professor of Communication Seth Pierce (@SethJ.Pierce) tweeted, "Friendly reminder, the 'Spirit of Prophecy' is actually the Holy Spirit, not Ellen White, despite our colloquial use of the term."
In addition, Nezzy @TFTPNezzy tweeted: "#GCSession I'm late catching up but.  'Spirit of Prophecy Coordinator' is the last thing we need because it will self-select for those who already idolize and obsess over her. Aunty Ellen would be horrified by this…"
Lowell Cooper spoke to concerns brought up the day before regarding the Nominating Committee's consideration for representation and diversity when electing individuals for GC positions. 

The following stats were shared: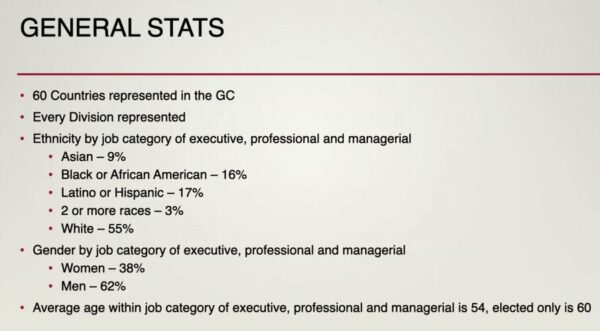 The Nominating Committee presented votes for Division Secretaries and Treasurers and then votes for GC Associate Directors (AD) and Associate Secretaries (AS).

Check out all the voted positions here:

https://www.gcsession.org/voted_positions/

There was a motion to amend chapter 8 of the

Church Manual

to establish a new ministry called "Adventist Possibility Ministries" so as to be inclusive for all members (including the hearing-impaired) to be engaged in ministry (item 419) This was voted through decisively: 1,045 voted yes (99.6%); 4 voted no (0.4%).

Here is some demographic info on GC Session delegates: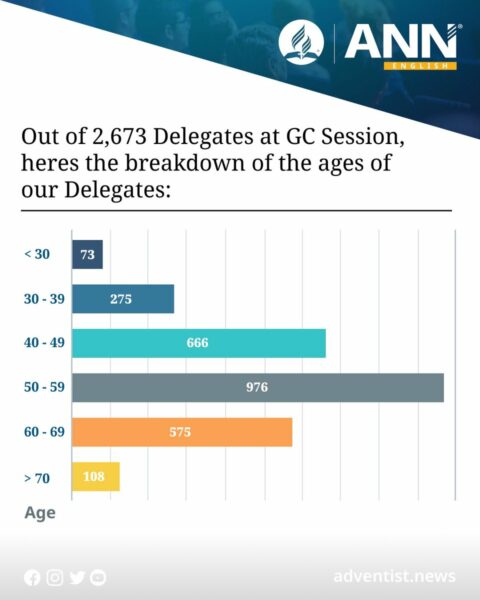 Other Highlights:
Finally, a tweet from @gcsession hinted that some delegates may be having trouble getting up on time in the morning😀:
"Goodnight Delegates and Staff!
Make sure you charge your devices by plugging them in properly and charge your body by getting plenty of good rest. If you need help waking up on time, ask your front desk for a 'wake up call.'"
---
(Photo: Lowell Cooper, chair of the nominating committee, announces new voted church leaders. Photo via YouTube screenshot.)