By Aage Rendalen, 03/06/2017
When I recently contacted former GC president Jan Paulsen in the hope of interviewing him for Spectrum (he politely declined, as he probably should have), Google informed me that the lunatic fringe of the Adventist church had identified him as a secret Jesuit. Dr. Paulsen had apparently earned his entry into this august society by inflicting moderation and calls for tolerance upon a hapless denomination.
You really shouldn't laugh, for reasons I will go into later, but it is hard not to. The story is as inappropriately laughable as the one about Hillary Clinton running a child trafficking ring out of a pizza place in Washington, DC. What is not so laughable is that a lot of people have the mental incapacity to believe stuff like this. At the beginning of 2017, 52 percent of Republicans, according to one poll, believe this absurd story, and not so long ago, even higher percentages believed that Barack Obama was a Kenyan Muslim smuggled into the US in time to be born here and grow up to become US President with a side gig as The Antichrist.
You may rightfully ask where such crazy conspiracy theories come from, and why on earth anyone capable of tying their shoelaces would embrace such nefarious nonsense that serves no other purpose than ripping apart our social fabric. And given the fact that the Christian gospel is a celebration of love writ large, shouldn't Christians be immune to such destructive nuttery? Unfortunately, Christians are no better at using "should" as a building material than anybody else, especially when they have a fundamentalist outlook on life.
Fundamentalism, at its root, is the inability to deal with ambiguity and a correspondingly strong craving for clarity. Fundamentalists of all stripes, secular or religious, think of Truth as something that can be expressed in 140 characters and trumpeted from the battlements of Castle Veritas to rouse the troops for action. Unfortunately, life is more complex than that. Even holy scriptures are. And that is where the problem starts.
In order to reduce Truth to a tweet or a slogan, all the discordant elements that life throws at clarity must be exiled from reality. Arthur Koestler once wrote that "Political assassination is the panacea of all dilettantes. Shoot the villain of the piece and all will be well." In countries run by dictators, that is still how things are done. In a democracy, character assassination is seen as just as effective. That is why Adventist fundamentalists reacted to the turmoil of the late 1970s and early 1980s by naming the perceived enemies of clarity as secret Jesuits. I was there when it happened, so let me tell you the story.
It started in the late 1970s with Jack Chick of Jack Chick Publications falling for a conman by the name of John Wayne Todd (1949-2007). Chick spread Todd's colorful and sulfurous story by means of his celebrated cartoon publications, and Todd himself began traveling the country in 1978 in search of gullible Evangelicals with an apocalyptic bent. He was a compelling speaker who claimed that he had inside information on the fabled Illuminati, an organization that by means of witchcraft and rock music and the suborning of prominent politicians had gained control of the world's governments and stood ready to push an apocalyptic Satanic takeover of the world in 1980. Evangelicals fell like ten pins for his ludicrous story. (Robert Ludlum, the author of the Jason Bourne books, found it so entertaining that he used elements of Todd's story to create his 1979 potboiler The Matarese Circle.)
In the Adventist world, John Todd tapes began circulating in 1978, and a prepper mood gripped a lot of Adventists who were anxious for the Time of Trouble to begin. Even when some major Evangelical publications exposed Todd as a swindler, it was not enough to stem the tide of enthusiasm. I was in graduate school at Andrews University at the time. In the winter of 1979, Roland Hegstad, editor of Liberty magazine, came to speak on campus about the preposterous John Todd revelations. The Andrews church was so packed that it could have made a preacher weep from envy. Hegstad gutted the conspiracy story and left it bleeding to death behind the lectern. It is not often you see crazy succumb to reason, but this time, that's what happened. John Todd never re-emerged within Adventism. As we shall see later, Hegstad would eventually be rewarded for his accomplishment by being one of four charter members named to these conspiracists' Jesuit Hall of Fame.
With Jack Chick's hero, John Todd, going down in flames, you would have thought Chick Publications would have been hesitant to promote another con man, but you would be wrong. Next came Alberto Rivera (1937-1997), a man with an even longer rap sheet than John Todd. (The exploits of both Todd and Rivera are described in some detail on Wikipedia.) Rivera claimed, falsely, that he had been a Jesuit priest and that the Catholic church was responsible for pretty much everything that was wrong with the world. It had created Islam, assassinated Lincoln, caused two world wars and was secretly promoting homosexuality and abortion. To Jack Chick it sounded like The Truth, and soon Alberto comic books began circulating. In the first one, Alberto, the bogus ex-Jesuit named all the Protestant churches that had been infiltrated by Jesuit undercover agents, beginning alphabetically with Adventists. That caught the eye of self-proclaimed Adventist evangelist Mike Clute.
He arranged for a meeting with Rivera, and when he left him, he had him on tape confirming that the turmoil in the Adventist church was caused by a coven of Jesuit agents of whom the most famous were Desmond Ford, Walter Rae and Samuele Bacchiocchi, the author of a controversial book on the Sabbath and a graduate of the Pontificial Gregorian University in Rome. Roland Hegstad's inclusion made no sense if you didn't know about his crusade against Jack Chick Publications.
The reason why Clute could only name four Adventists as Jesuits was that the other agents had been able to keep their identities hidden. Just how bad the situation was he learned on March 11 in 1981, when he contacted a member of the Edmond, Oklahoma Seventh-day Adventist church. Lana Smith talked regularly with an angel who was worried about what was happening within The Remnant Church. The angel had confirmed everything she had heard Alberto say on Clute's taped interview, including the magnitude of the Jesuit infiltration of the church.
Local churches and the General Conference itself had been taken over by Jesuits, either by blackmailing ambitious clerics working for the church or by assassinating the recalcitrant and replacing them with body doubles. "She said five GC men had already been killed and replaced by doubles," Clute reported in a letter dated March 15, 1982 and inserted it into a scandal sheet put out by vigilantes in Collegedale who were baying for the blood of the SMC religion department. And to add credibility to the woman's sensational story Clute added: "I once saw a film on TV in which a leader or president of a country was killed and the man who replaced him had plastic surgery done on him so no one could tell the difference." Clute added, that unfortunately this poor woman (whose name and telephone number he included in his long letter) had been struggling with cancer and was diagnosed with a brain tumor that had caused her infernal headaches.
After leaving church employment and the Seventh-day Adventist church, I spent 1981-1982 in Collegedale, where my in-laws lived. I saw firsthand how the social fabric of the community was ripped apart by a group of Torquemada wannabees pushing the Jesuit conspiracy theory. They won the support of key people in the community who had enough money to blackmail the college and the local conference to do their bidding. Incongruously, these vigilantes found supporters in high places, such as Kenneth Wood, editor of the Review, and the president of the Southern Union Al McClure. Kenneth Wood, in a letter to the flakiest of the Collegedale vigilantes, written on Jan 18, 1982, encouraged her and the other heresy hunters who were patrolling the community with theological pitchforks to keep up the good work but he drew the line at her Alberto-based charge that the church was shot through with Jesuits. In frustration, she wrote back to Wood: "Perhaps things are so bad with these doubters and Jesuits in the GC that you feel helpless to do anything, but with God all things are possible." It certainly was possible to get rid of the college president and destroy the religion department by getting rid of its most popular and creative professors and replace them with a retired authoritarian bureaucrat and compliant traditionalists vying for a seat on the infamous EGW chair of theology endowed by the very people who had led the crusade against the college.
What happened in Collegedale was no aberration. Fundamentalists led by demagogues not only think of everyone on the outside as enemies; they invariably begin suspecting those within the bubble of being agents of evil. Revolutions end up devouring their own, as the French revolutionary Danton observed before the blade of the guillotine dropped his head into the basket below the dais.
Fundamentalism is at its root utopian. Fundamentalist theory declares that if you banish Trotsky (or in our case, Desmond Ford) and scare the daylight out of those who liked them, you will be ready to cross the Jordan and enter the Promised Land. The trouble is, as Arthur Koestler pointed out, when humans clear ground for a new Paradise, weeds invariably appear, and, as a character in his novel Age of Longing puts it, a revolutionary who didn't understand why would invariably suspect that "every smiling, jovial face, a teacher's or one's best friend's, might be a mask behind which the tempter hid his true face. Not until the last among them was unmasked and liquidated, could the Great Change get into its real stride." This is why we should not laugh at conspiracy theories. Nazism was a conspiracy theory. Fundamentalist are on average good, decent people; the problem is that they are vulnerable to demagogues because they are primed to obey legitimate authority and they are not used to people who brazenly lie to them. Under those circumstances good people are capable of thinking and doing awful things. Germany and the American South being good examples of that.
Mendacity is the backbone of any classic conspiracy theory, and its inherent lies do not only harm the communities they are foisted upon: they also tar and feather the people who are used as props in these concocted stories and expose them to prejudicial treatment or (as in the case of the DC pizza-pederasty hoax) a confrontation across a rifle barrel. Those who peddle conspiracy theories are not that different from primates hurling feces at people. In the 19th century,  US, anti-immigration advocates spread preposterous conspiracy theories involving the Catholic church. The church itself was cast as a den of iniquity, the devil's storefront and Irish and Italian immigrants were seen as the stormtroopers of a Vatican hellbent on taking control of the United States. Even as late as in the early 1970s, when I joined the Seventh-day Adventist church, it was taken for granted by many Adventists that every Catholic church in the neighborhood had torture chambers in their basements. And no branch of Catholicism was more feared than the mythical Jesuits.
In my native country of Norway, the Constitution of 1814 banned Jesuits from entering the kingdom, a ban that was only lifted in 1956 (against the protests of fundamentalist Lutherans as well as the Seventh-day Adventist church.) And why? Because they had been demonized. There was no other reason. The crime of Catholics in general and Jesuits in particular—as was the case with the religion professors at Southern University—was being demonized. Since terrible stories were being told about them (Edwin Zackrison at Southern was accused of having smuggled a Catholic priest into the boy's dorm where he had performed mass for vulnerable students), they must be terrible people. As I pointed out, fundamentalists are not used to people brazenly lying to them, so their first instinct is to believe what they are told.
In the early 1980s, I began reading extensively in The Jesuit Relations, the mission reports that Jesuit fathers sent to France every year from their remote outposts in Huron and Iroquois country around the North American Great Lakes starting in the late 1600s. In these very personal accounts, you meet heroic characters as well as small-spirited administrators more worried about the proper alignment of liturgical candles than natives dying by the thousands at the hands of their enemies, as well as the small pox and the flu. It turns out they were no different than anybody else. The bad they did was real but unintentional, just like our devastating invasion of Iraq.
In South America, historically the Jesuits were often the only buffer between slave chasing Spaniards and Portuguese and the native population (as portrayed in the 1986 movie The Mission). In China and Japan and Tibet they drilled deep into the local cultures, learned the local languages, translated the works of Confucius into Latin in 1687, and established missions successful enough to merit being crushed by local rulers.
The Society of Jesus has a storied history which includes standing up to Hitler and dying as part of the resistance. Fourteen Jesuit priests have been recognized by the Yad Vashem Holocaust shrine in Jerusalem for risking their lives to save Jews during WWII. And today's (first ever) Jesuit pope, Pope Francis, is in many ways the only cleric that both Protestants and Catholics view as the head of the Christian church.
This does not mean that Blaise Pascal (in his Provincial Letters) or Molière (Tartuffe) had no reason to criticize the Jesuits of their time. Nor do I dismiss Protestant fears during the Counter Reformation that ground won by Luther and Calvin could be lost, as the case was in Poland and Lithuania, by Jesuit counter-attacks. But these are the type of accusations you could direct at any religious group—and any Protestant group that had been able to wrest a country or two away from Catholic control would only have been praised. And when it comes to bad behavior, just think of Luther drowning Anabaptists, and Calvin torching Servetus for disagreeing on the finer points of dogma. As for infiltration into Protestant countries, those were originally fears of Spanish spies during and after the time of the Spanish Armada's attempt at invading England. There is no record whatsoever of Jesuits, outside the mythological realms created by Protestants, being engaged in surreptitious proselytism.
The Society of Jesus in 1980, when Jack Chick had them infiltrating all of Protestantism and the Adventist church at every level of organization, had 30,000 priests. Today that number is about 17,000. Never has so much been expected of so few. After covering the Southern Baptist church (America's largest protestant denomination) these jinxed servants of evil would have had to do double or triple duty to penetrate Adventism. With such a heavy workload, it's a wonder Karl Rahner, S.J. wasn't sent out to run the General Conference. 
The Catholic church is just as Christian as the Adventist church is, and the Jesuits would be a credit to any denomination. Now, for those with a binary mind, who do you think would want to keep believers from recognizing that fact? You don't need to wait for Dana Carvey's Church Lady to come up with that easy answer.
As you can tell from this piece, I am angling at being inducted into the Society of Jesus myself by the Adventist lunatic fringe. Perhaps then I would be able to sit down with Jan Paulsen and have a frank conversation about life and theology, and maybe he could introduce me to Pope Francis. I may not be a believer, but I like talking to people with real values, Jesuits or not.
References
---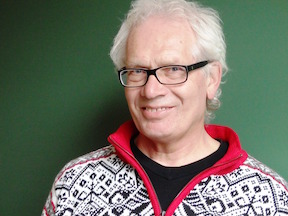 Aage Rendalen is a retired foreign language teacher living in Richmond, Va. He got his undergraduate and graduate degree in religion and secondary education from Southern Adventist University and Andrews University and his foreign language training at the University of Oslo.