By Jim Wibberding  |  8 August 2021  |
Curly dark locks danced beside her round face and bright eyes. "Daddy! I saw another jackrabbit!"
Alonzo Beauchamp felt the lump of cash in his pocket and smiled at his four-year-old girl. For Alice, the train ride from Kinsley, Kansas, to their new home out west was pure adventure. For him, it was the biggest risk of his life. With the farm reduced to a wad of bills in his overalls, he hoped good land and opportunity awaited them in the unknown world ahead.
It was the fall of 1901.[1] He need not have worried. They settled in a thriving Adventist community near Healdsburg College—later Pacific Union College (PUC).
That early westward adventure stirred something in Alice. Growing up in the whir of PUC added missional vision to the lure of adventure. There, pioneering spirits gave the adventure of Adventist mission more buzz than the coffee they wouldn't drink.
Every time she leaned in to hear Ellen White tell a story fresh from the Australian mission field, or listen to a tale of the early days from the still feisty John Loughborough or Merritt Kellogg, her dreams of missionary adventures grew.
Younger leaders also stirred Alice's dreams. Clare Hodges, the first female U. S. park ranger, was just a couple years ahead of her at the Lodi training school for teachers (Western Normal School). Jennie Ireland, a tenacious leader who started the first successful Black Adventist church west of the Mississippi and trained a generation of Black Adventist leaders, would often visit her home in Northern California to share stories. Writers and educators, Sarah Peck and Sara McEnterfer and Alma McKibbin and others, added their missional oxygen to the air Alice breathed.
At her first opportunity, Alice enrolled in the College of Medical Evangelists at Loma Linda with an eye to the mission field. While there, she married John Elvin—a short, jovial, and driven man with light blue eyes. Their dreams ballooned as they studied alongside other pioneering minds—including Ruth Temple, who would become the first Black female doctor licensed in California and a pacesetter in public health. They soon set their sights on South America.
Alice Beauchamp-Elvin was destined for a long career of changing the world for God.
Except she wasn't.
Unboxing the Pain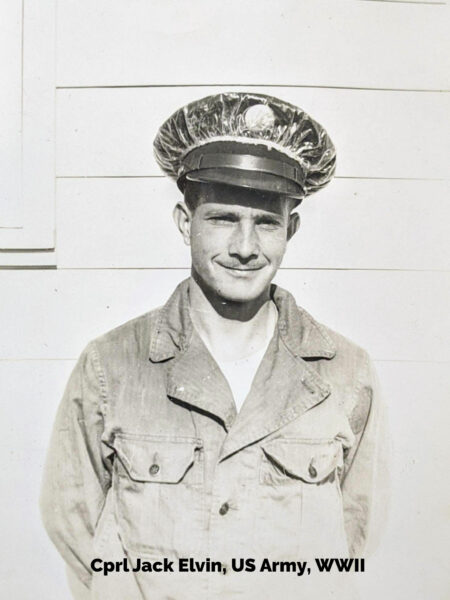 The musk of stale cardboard crept up my nose. My brother and I crouched on the green shag carpet as our grandpa, Dr. Jack Elvin, dug treasures from the old box in the back room. He sat on the floor in plaid pants and a white t-shirt, flashing his trademark grin and conjuring stories from the relics around him.
His short, muscled arm rasped against the box again and, as he pulled out the next treasure, I felt the moment change. His grin was gone. The story had stopped. Grandpa was gazing at a picture, hand on his chin, lips quivering, tears flooding his eyes.
"What's wrong, Grandpa," I ventured.
"That is my mother," he said, voice thick with the flood inside him.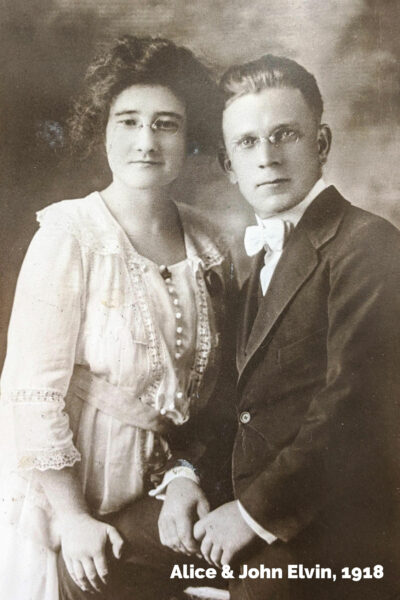 He stared in silence as he held the black-and-white image of a young couple from 1918.
"I never knew my mother," he said. "I wish I could remember her."
Grandpa was a good soldier. He believed in the Adventist mission. In a few minutes, he gathered his poise to tell of miracles that God did for his parents in the Peruvian mission field. There were stories of deliverance from angry mobs and enemies won to the faith and new mission stations and how llama milk saved him as a baby.
All the good stories moved me, but couldn't dislodge a simple, sobering fact that had caught in my nine-year-old mind: the mission had stolen his mother. She died of peritonitis—but it was the mission that put her in danger.
I learned that the mission had taken his dad in a way, too; Great-grandpa didn't recover his faith for decades after the staggering loss of his wife, and an aunt raised my grandpa for much of his childhood.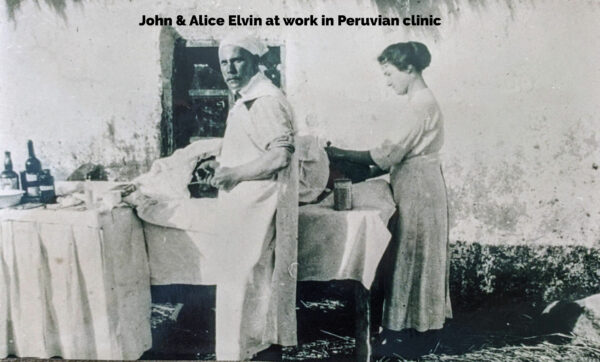 Did God want Grandpa to live life without his parents? Was this a sacrifice God required?
An Implicit Theology
What do we do with the hard stories? Does God will us pain? I share this story to challenge an implicit theology of sacrificial service that speaks ill of God.
What is that implicit theology? It echoes throughout Alice and John's story.
We hear it ricochet through the commencement crowd at their graduation. Percy Magan warned, "There will be many a midnight before the day of peace, many a trial that will test devotion and loyalty." He continued that, "When the dark times come in your lives—the midnights—then go out to meet Him, and He will never disappoint you."[2]
We hear it cascade through the pages of the Western Canadian Tidings. In a brief farewell note, after describing the work Alice and John would do in the Lake Titicaca mission district, the reporter wrote, "May the Lord bless the efforts of these dear workers who have placed themselves as a willing sacrifice upon the altar of service."[3]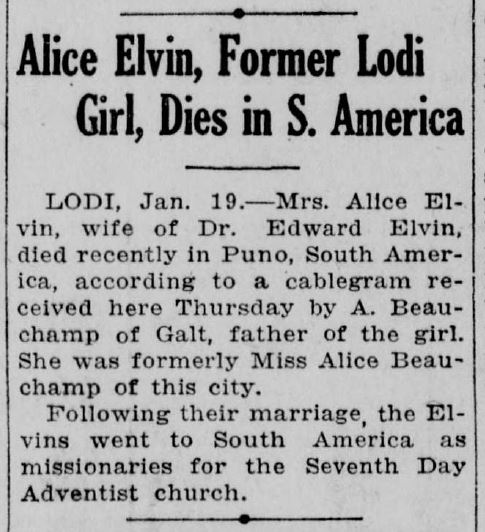 Many a trial. Willing sacrifice upon the altar of service. Indeed. It was 1920. Alice would be dead by early 1923. Her obituary read,
She leaves a husband and two children to mourn their loss—one daughter, aged three years; and a son, aged fifteen months. Sister Elvin had been a loyal, self-sacrificing worker, who stood faithfully by the side of her husband. We feel sure that in the glad day when Jesus comes those who are faithful will meet her again.[4]
Suddenly, it was over. All those years of dreaming for a mission that lasted just three years. There was nothing left to do. "Brother Elvin and his babies made the long, sad journey back to the homeland, and new workers came in to fill the gap."[5]
Many a trial. Willing sacrifice upon the altar of service. Self-sacrificing worker. I don't doubt these ideals. Nor do I object to giving Great-grandma Alice credit for faithful service. Neither do I question the repeated explicit biblical mandate to endure through suffering or to give God 100%.
Instead, I oppose the idea too often implied by this language, the idea that when God calls us he wants us to suffer. It's the part we don't put words to but often believe just as deeply. Yes, "all who desire to live godly in Christ Jesus will suffer persecution" (2 Timothy 3:12 NKJV), but that is the hand of the devil; it is not God's doing.
A God of Joy
I push back on the sacrificial visions many hold dear because the implicit theology that often echoes between its phrases has damaged many a relationship with God. I believe it complicated Grandpa's. It has hurt my own connection with God.
In my years of ministry, the fervor of sacrifice has too often been the voice whispering a subtext that God wants to strip me of joy, that He doesn't want me to have the simple pleasures of life, that my heavenly Father takes good things from me—because I am called to service, to sacrifice. I have too often accepted that same message that destroyed Great-grandpa's faith for most of his life after his wife died in the mission field—a sacrifice that, it seemed to him, God required.
This implicit theology of sacrificial service describes a God who wills His children to suffer. By contrast, I have discovered a God who wills His children joy, healing, and hope. Let us reclaim that picture of God.
God does not issue the call to service to rob His children of joy, peace, or loved ones. Instead, "the fruit of [his] Spirit is love, joy, peace . . ." (Galatians 5:22 NIV). Indeed, "every good and perfect gift is from above, coming down from the Father of the heavenly lights" (James 1:17 NIV).
Ignore the subtext. Name and reject this implicit theology of sacrificial service. Yes, give God everything you have but keep a firm grasp on the knowledge that He wills you love, joy, peace, and every good gift—and freely enjoy those gifts.
Maybe Great-grandma Alice got it. I hope she did. "Her last words after having kissed her children good-by [sic], were, 'I am going to sleep in Jesus.'"[6]
Rest well, Great-grandma. God has better things planned for you than this world gave you. He wished you joy in service and wishes you joy in eternity. Your son is sleeping now too. He grew into a most excellent man. He will soon have the chance to know you—his lifelong wish. Rest in the truth that our Father in heaven has good things planned for you, for him, for your husband and daughter, for all of us. Yes, He is a God who wills you joy.
Before you go…
Your financial support allows us to keep growing the best thing about Adventist Today: our international family of readers, writers and other contributors.
Since the start of the pandemic we have expanded from being an independent news and commentary publisher to actively engaging and growing our AT community via features such as our weekly Sabbath Seminar gathering and AT1, our weekly on-demand vespers program.
In a time of uncertainty when much of the world still suffers from indoor isolation, being part of the AT community means more than ever.
Your support has allowed the AT family to grow in diversity as more and more writers, presenters and musicians joined our family from around the world. No lockdown can stop the growth we've experienced together.
We couldn't have grown like this without your support.
Thank you for giving generously to build the future of AT. Donate to Adventist Today by clicking here: atoday.org/donate
---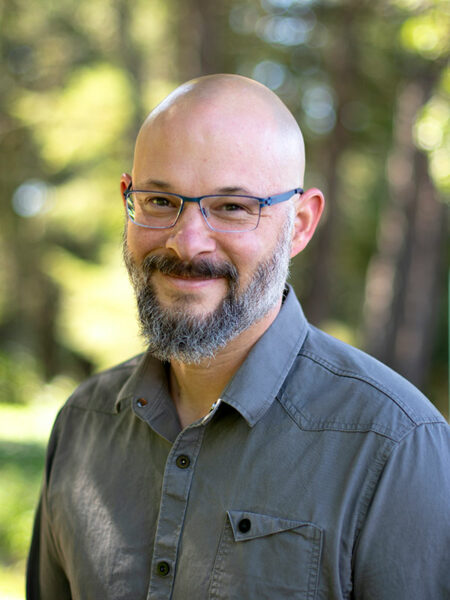 James Wibberding, D.Min., is Professor of Applied Theology and Biblical Studies at Pacific Union College in California.