By Linda Werman Brawner, posted by Debbonnaire Kovacs, Jan 27, 2016
We recently featured Linda Werman Brawner as the author of a new book, Surviving With Grace, on coping with grief. In talking to her, I learned of a different mission she is involved in, which sounded so interesting that I asked her to write me a feature about it. Here it is. DLK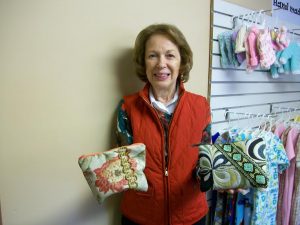 Two years ago my home church, Mansfield, Ohio, Seventh-day Adventist, made an emphasis on small groups and encouraged all members to join one. I threatened to join men's basketball because nothing else interested me enough. One of the women on the board suggested I start a group of sewers to help the needy since I was already making and donating things.
The prediction was that we would have one or two members. We are now about seventeen people who cut, sew, crochet and knit. We have one man whose identity I promised to conceal. We let our lights shine so that men may glorify God.
Our group structure best resembles the wheels within wheels of Ezekiel. All the members spin from one good deed to another, weaving their Busy Body projects into their busy lives. I encourage the members to find joy in their work and to think of themselves as playing at the feet of Jesus.
To this end, all members are encouraged to say no. This is important since I don't always know the person's gifts and talents. I don't wait for volunteers, I individually recruit. For example, I recruited Stephanie to knit mittens. She is very skilled at fiber arts but found the mittens torturous work. Now she happily makes hats and purchases little gloves. She spins smoothly and all we do is toss her a box of yarn about once a year. People happy with their work are more productive. Beth likes to sew pants and once a year we cut some out for her to make. Marlene wanted to sew, but tending a sick husband made that impractical. One day I asked if she could crochet. Making baby blankets is her delight. Everyone has a project on hand and rarely is anyone racing to meet a deadline. If you have enough works in progress, there is always something for your hands to do.
What we make is determined by community needs, what we have in stock, and on the gifts and talents of our members. We donate to Richland Crisis Pregnancy,  Walnut Street Clothing which is a free clothes closet run by Ontario Christian Church, Richland County Children's Services and Women's Ministries of the Ohio Conference of Seventh-day Adventists. We even did a one-time donation to the chaplaincy department of Kettering Hospital.  We shipped little dresses to Kenya that were distributed by one of the local churches, but shipping costs have caused us to prefer local projects.
We buy very little of what we use. Home Sew Inc. has donated a delightful selection of hook and loop tape. Nicholls, a local furniture store,  has kept us well supplied with outdated fabric samples. We use these to make zippered pouches used by Richland Crisis Pregnancy to make toiletry kits. Zippers cost little to nothing. As we gain notoriety, we get donations of fabric, yarn and notions from women who want to thin down their personal stashes. As a result we don't need funding through the church budget. This makes us well loved by the church.
Every year our church has a booth at the county fair where we distribute Bibles and Christian literature. This year we are making some little things for the children because the budget is tight. Most things cost a penny or two, sometimes less. One Busy Body is stitching together fortune cookies that contain Bible verses. Another member is cutting out pieces that will become corner bookmarks. Another will be making ribbon crosses because the materials needed for it are in good supply and really don't have another use. We get most of our ideas from the internet.
The reason our loose structure works is prayer. Daily, I pray for our members in production. As we use the donations, I ask God to bless the donors. As we make things we ask God to bless the users. As we pack finished donations we ask God to bless the distributors. As we pray, pray, pray, God speaks to us. My favorite prayer is that of Jabez, "Lord, bless us indeed, enlarge our territory and deliver us from evil." We prayed for Marlene several months before I thought to ask her about crocheting.
We don't have meetings because everyone is scattered over three counties. We exchange our pieces and parts on Sabbath morning. I have never looked forward to going to church as much as I do now. In addition to what I expect, I never know who will surprise me with a donation. Surprise donations led us to distributing used clothing.
In 2015 we made about 2,000 items for the needy including roughly 200 zippered pouches, 25 travel bags for children's services, cheerful pillowcases for Galion hospital, 200 baby blankets and 50 taggy toys for infants. Taggy toys are little fleece blankets around eight inches in diameter. We put a piece of plastic pet food bag inside for an interesting crinkle. Tucked into the edges are snippets of ribbon & trim in a variety of colors and textures to hold the baby's interest. It is made of fleece so that the baby doesn't drop it all the time. It's a wonderful way to use up all sorts of things. Right now, I'm about to get some members to cut out the fleece. One is working on the tags and another on the plastic centers.
As a result of my work as a home health aide, I am sometimes aware of individuals who need help. We have crocheted dish clothes from donated cotton as well as sewn curtains, pillowcases, and bibs. We have supplied other women with fabric scraps and other supplies so they can provide for their loved ones.
Every item that crosses our paths is an opportunity to show others just how much God loves them.
If you wish to learn more about Brawner and her work, here is her Facebook page, and here is her blogger page. She says, "Some of the devotions that appear there are geared towards the Busy Bodies. People can message me through either page."