By S M Chen, posted Feb 23, 2017
Gather ye rosebuds while ye may
Old Time is still a-flying.
And this same flower that smiles today
Tomorrow will be dying.
—Robert Herrick (1591-1674)
***
Alan Watts, British philosopher, was a proponent of living life to the fullest. He opined: "No valid plans for the future can be made by those who have no capacity for living now." I find no conflict between his thinking and that of Christ, who explained His mission thus: "I am come that they might have life, and that they might have it more abundantly."
***
In no particular order:
News item: British socialite Tara Palmer-Tomkinson recently died at age 45 with a pituitary brain tumor. The role of the tumor in causation of death is uncertain.
Old news: A radiologist with whom I had trained performed a cerebral arteriogram on a patient in a different part of the country. He was researching its findings in the hospital library when he developed neurologic symptoms of his own. Subsequent workup revealed a malignant brain tumor. Glioblastoma has a dismal prognosis. He subsequently succumbed (as did, at a different time and place, composer George Gershwin). Neither reached age 40.
Another fellow radiologist succumbed in mid life to cancer of the esophagus, which may have resulted from gastroesophageal reflux disease (GERD), which is associated with a higher incidence. His lifestyle didn't include some of the more common associations (e.g. drinking, smoking) of this particular malignancy.
Yet another fellow radiologist perished in a boating accident near San Diego at age 44 in the prime of life.
And another fellow resident developed amyotrophic lateral sclerosis (Lou Gehrig disease) in his late 60s. He and I began our careers together but then I went elsewhere and we lost contact. I learned of his malady and called him a short time before he passed. I sensed the conversation may have been difficult for him. His voice was weak but he seemed of sound mind and in good spirits. I was touched by his mentioning that, many years after I had left the group, I had been missed.
***
Life is unpredictable in its duration. Perhaps that's what inspired Robert Frost's poem "Happiness Makes Up In Height What It Lacks In Length."
More old news: My father developed abdominal pain shortly before he planned a visit to China, from whence he had come, decades earlier, to visit his sister, and other family. Diagnosed as having incurable cancer of the pancreas, he never made the trip. A couple years later, I made a different trip there and felt privileged to visit my aunt and her children in the land of their birth. Unspoken was the poignancy of her brother's absence.
Those places and things on your bucket list? Don't delay visiting and doing them. Who knows how many tomorrows you will be granted. Trite but true.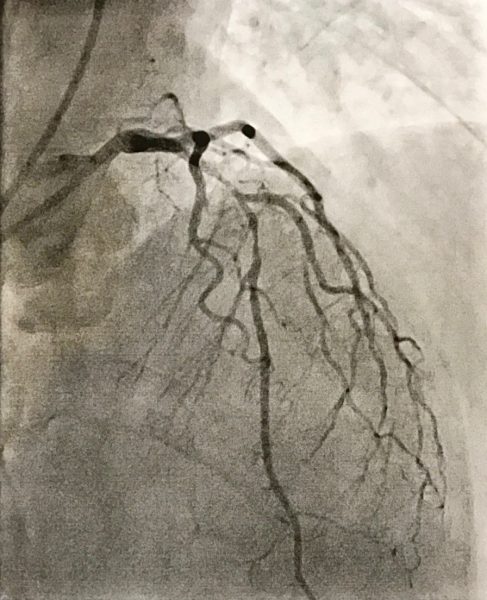 More recent news: A brother in his late 70s had aching upper teeth and symptoms he attributed to GERD. On a recent Sunday, when headed to his car after visiting a prison inmate, his heart rate slowed to an irregular 31 bpm and he developed chest pain. His bradycardia abated but nonetheless he sought medical attention. Family members took him to a tertiary care hospital, where he underwent cardiac catheterization. One major branch of his left coronary artery had a tight narrowing (see above). A stent was placed, widening the area of stenosis and improving flow, and he was subsequently discharged in good condition.
***
More old news: Two brothers of Scandinavian extraction, old college friends, both carry coronary stents within them. In their 70s, both feel fortunate to have been near a medical facility when they developed symptoms of angina.
Close to 1 million people a year in the USA suffer a heart attack. About half will die. Less than 10% of those experiencing cardiac arrest outside a hospital will survive.
***
2% of the populace has cerebral aneurysms. How many of us are walking time bombs and don't know it? 40% of patients with a ruptured brain aneurysm will die. 2/3 of those who survive will have permanent neurologic deficit.
Lamentations 3:22 of Holy Writ comes to mind.
***
How many of the almost 3000 souls who perished on 9/11/2001 in New York City lived a life of purpose and fulfillment before that fateful day?
***
Thinking that if it's good for plants, the same might be for humans, I listen to a lot of classical music. Many great composers didn't make it to their 40th birthday: Schubert, Mendelssohn, Mozart, Chopin, Gershwin, Bizet, Purcell. Yet in the time they lived, they composed enduring work which brings pleasure to listeners today. Schubert, in his brief 31 years, wrote an astonishing close to 1000 pieces of music.
***
More old news: A friend on whose private tennis court I have played many times in the past was scheduled for minor foot surgery. As is customary, he had a pre-operative chest x-ray. I detected a subtle finding on the chest x-ray that didn't belong. I didn't have comparison studies, so didn't know how long it'd been there. When, in short order, outside films were obtained, it was evident that the finding had not been there before.
He subsequently had a CT chest scan, which confirmed the abnormality. Needle biopsy revealed a lung cancer, and he underwent surgical removal of part of his left lung. He still practices and I see him from time to time. His hair has regrown following chemotherapy; he no longer wears a baseball cap. I don't know if he ever underwent surgery on his foot.
***
More old news: A group of young people visited Yosemite National Park from a central California church.
One girl ignored posted warning signs above falls and stepped beyond a protective barrier. She slipped into the stream and was swept by swift water. One of her male companions jumped in to succor her. He, too, was overcome by fast-flowing water. A third, another well-intentioned male, went to succor the other two. All three went over the edge and perished.
Neither foolishness nor valor are necessarily rewarded in this life.
***
What is rewarded?
The quest for discernment of the unseen parallel universe. For some of us, that search occupies much of life.
If we seek Him with diligence, we will find Him. We are promised that.

---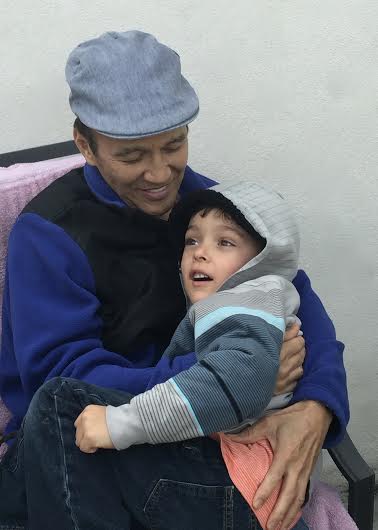 S M Chen lives and writes in California.