by Lindsey Abston Painter  |  12 July 2021  |
Since the pandemic began I am more likely to order my household supplies from Amazon than go to the store to pick them up. And I know I'm not the only one. Many people enjoy the convenience of ordering online and having what they need delivered right to their door. 
But convenience aside, one of my favorite things about Amazon is that I can use AmazonSmile. When I use AmazonSmile, a percentage of everything I buy goes to the charity of my choice. I have AmazonSmile set to send all my donations to Adventist Today. Some people don't know this, but the smile.amazon.com page is the exact same as the regular amazon.com page, except that you get to support Adventist Today when you buy something from it!
It is not the only way I support Adventist Today, but it is an easy way. And the more people who do it, the more money we will generate for our favorite Adventist independent news source. 
Recently, Amazon even upgraded their phone app so you can use AmazonSmile with it! That means that if I order something quickly through Amazon on my phone, a percentage will still go to Adventist Today! 
Let's go through this step by step so you can see how to do it. This is easier to do from a computer than from a phone. 
Step 1: Hover your mouse over the box that says "Hello, [your name]" "Account & Lists. Select "AmazonSmile Charity Lists"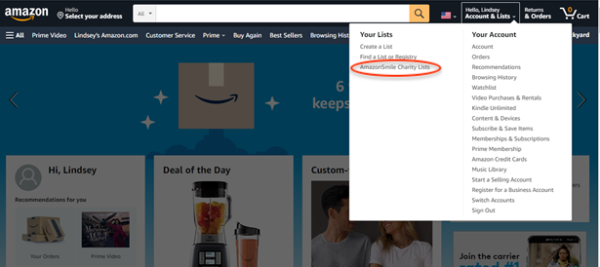 Step 2: Click on the orange button that says "Get started"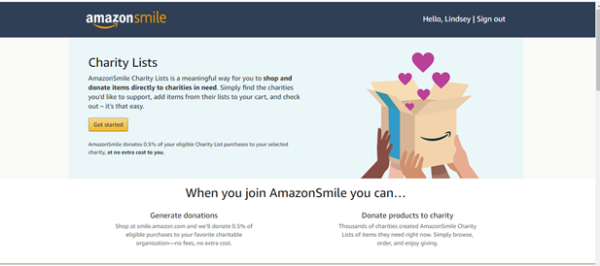 Step 3: Type "Adventist Today" into the search bar and click the orange search button.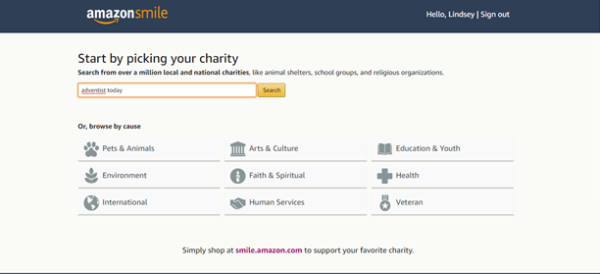 Step 4: Select "Adventist Today Foundation by choosing the gray "select" button.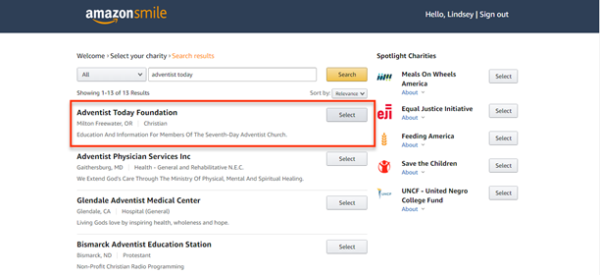 Step 5: Click the box to say that you understand you'll need to go to Smile.amazon.com in order to support Adventist Today.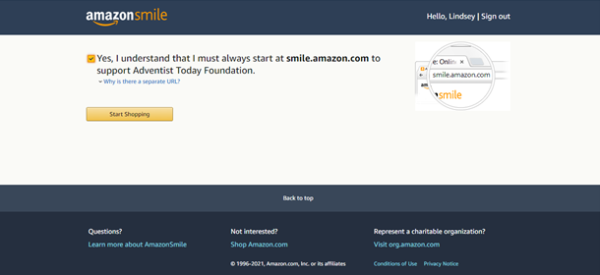 Now on your Amazon Smile page you will see a note that lets you know you are supporting Adventist Today. If you hover over it with your mouse it will tell you how much money you have generated for Adventist Today through your purchases.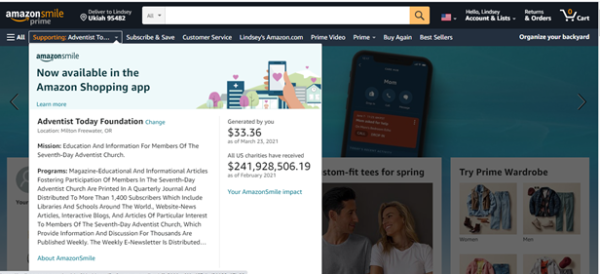 So head over to your Amazon account and set up Adventist Today as your AmazonSmile charity, and then you can smile every time you make a purchase, knowing you are supporting critical independent Adventist journalism as you go about your ordinary shopping. 
Now if you'll excuse me, I have some online shopping to do!
---