Pros at Cons: Cryptocurrency Scammers Hijack Adventist Church's YouTube Channel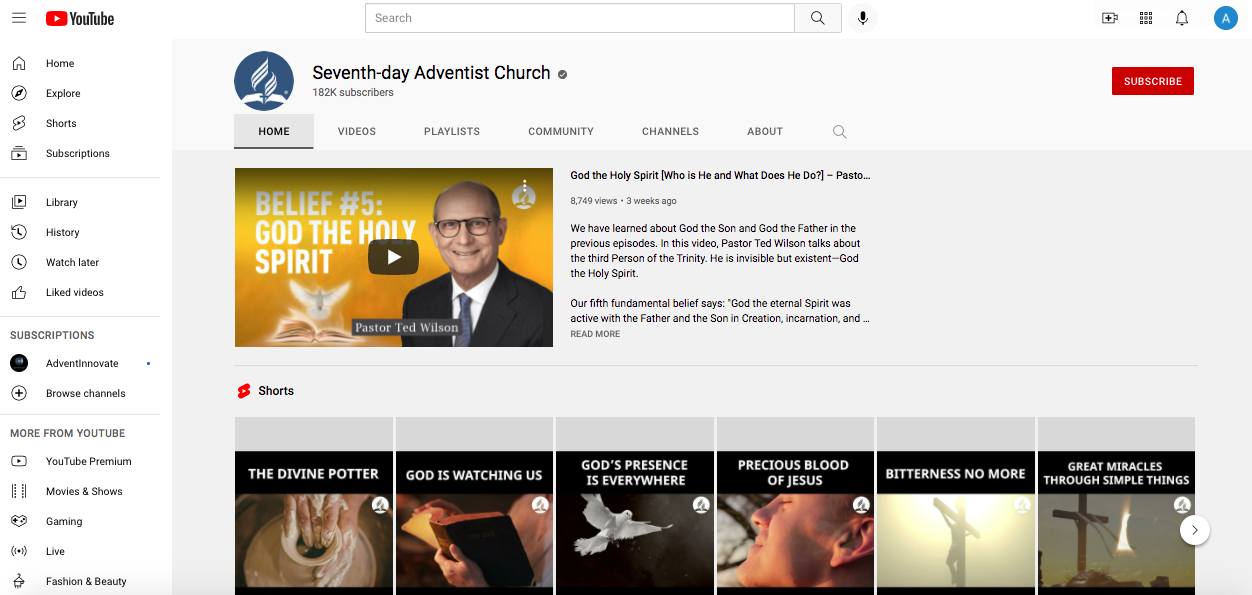 On Feb. 27, 2022, cryptocurrency scammers took over the official YouTube channel of the General Conference of Seventh-day Adventists. YouTube deleted the channel on Feb. 28, 2022.
After 2 appeals, the channel was restored on March 5, 2022.
Other church entities, including a conference in Jamaica and a church in Poland, were hijacked and used for the same scam.
11 March 2022 | Viewers can now return to their regular programming on the official YouTube channel of the General Conference of Seventh-day Adventists.
The channel had been offline since Monday, Feb. 28, 2022, after YouTube removed it for violating community guidelines,
reported the Adventist News Network.
The day before, on Sunday, Feb. 27, 2022, hackers had changed the logo and channel name to "SpaceX," to impersonate Elon Musk's SpaceX channel, according to a thread on the official Twitter account of the General Conference of Seventh-day Adventists, @AdventistChurch.
The channel touted fake updates on the SpaceX Starship and Starlink missions, and pushed a scam involving sending cryptocurrency to digital wallets.
Church officials were alerted to the situation by a follower whose comment showed concern that the YouTube channel had been hijacked. The channel was restored to its proper name and visual identity later that day.
However, YouTube has strict community guidelines that prohibit content that intends "to scam, mislead, spam or defraud other users," and terminated the channel the next day, on Feb. 28, 2022.
YouTube typically operates on a system that involves a warning and three strikes, but "sometimes a single case of severe abuse will result in channel termination without warning," according to an article about YouTube's Community Guidelines strikes.
On Monday, Feb. 28, 2022, church officials submitted an appeal to YouTube. A tweet for help via Twitter account @AdventistChurch also was sent to YouTube's support services account, @TeamYouTube.
@TeamYouTube's inference that the denomination's YouTube channel had been removed for violating community guidelines had speculation abounding among Twitter users about which one had been violated. A March 1, 2022, Twitter poll with 245 responses had "Hate Speech" as the winning assumption, followed closely by "Vaccine Misinformation."
Although an article had been posted on Feb. 28, 2022, reporting the hack and removal of the YouTube channel, no background or clarifying details had yet been provided by the date of the poll.
Church officials submitted another appeal to YouTube, and the channel was back online by March 5, 2022.
@AdventistChurch's Twitter thread revealed that other church entities' YouTube channels had been targeted by the same scam, including a conference in Jamaica and a church in Poland.
According to an article by Sophos, the cryptocurrency scammers usually target accounts with a sizable numbers of followers. The official church channel has 182,000 subscribers.
That same Sophos article said a way that scammers manage to hijack YouTube channels is through channel owners reusing the same username/password somewhere else.
If a breach occurs at one of the other places where the rightful account holders used the same username/password, scammers can then use automated tools to plug the stolen credentials into other accounts and see what they unlock.
Another possibility is that flimsy passwords that were easy to guess were used.
The hijacking of the church's YouTube channel also revealed a lack of consistent messaging across the church's media platforms.
While the church's Twitter thread on the restoration of the YouTube channel revealed details of the hack, an article by the Adventist News Network (ANN), which also reported on the channel's return, did not. ANN is the official news outlet of the Seventh-day Adventist Church.
"What was the reason the channel was terminated? The article doesn't tell us," said a commenter identified as "Delaware Valley Prophecy."
"I would like to know."
---
(Photo: The official YouTube channel of the Adventist Church is back online after hackers targeted it for a scam, causing YouTube to terminate the channel. Photo via screenshot.)