7 September 2018  |
Vyacheslav V. Buchnev, president of the Seventh-day Adventist Belarus Union of Churches, on August 15 appended his signature to a document signed by three other Protestant church leaders in Belarus that protests LGBT "propaganda" in the country. The document says that there are too many events in the country that demonstrate the homosexual lifestyle as merely an acceptable variation of the norm.
The document was prepared under the auspices of the ecumenical Religious Association of Christian Communities of the Full Gospel in the Republic of Belarus, and is addressed to the country's president, Alexander Lukashenko. The statement is posted at the site of the Association, and reported on by the news site Belsat.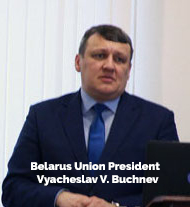 The document says that laws should "prevent propaganda and the imposition of sexual promiscuity in society, especially among children and youth, and also protect the rights of parents to raise children in a morally healthy environment." "We propose to consider the law on the prohibition of the propaganda of homosexuality and other forms of non-traditional sexual behavior, especially among minors, defining the family as a legal union of one man and one woman with children born or under their care," say Elder Buchnev and the other Protestant leaders.
They write, "Belarus has the right to live in accordance with values ​​that have proven their sobriety and durability over the centuries."
The Protestant leaders follow an earlier similar demand from Roman Catholic Metropolitan (Bishop) Tadeusz Kondrusiewicz, who also asked President Lukashenka to put "an obstacle to the propaganda of unconventional sexual behavior."
The Belarus Union of Churches cites 66 congregations, and a membership of 3,795.
A translation of the document can be read here.
---