After Darkness, what? The Reformation claimed After Darkness, Light. What do we do when darkness overtakes the light?  What do Adventists damaged by the unfortunate decisions of GC 2015 do now? Jack Hoehn has written a major article with suggestions on what do Adventists do after San Antonio to promote progress, growth, and change in Adventism.
By Jack Hoehn
BOKO HARAM
On a night in April, 2014, a group of religious extremists came to a school where teen-age girls were taking final exams in physics.  This group has been known to target schools, believing that girls should not be educated and using them as cooks or sex slaves.  Although some of the girls escaped, over 234 were missing.  The kidnappers told them they were "security forces" and herded them into trucks and then drove them to a forested area with fortified camps.
Houses in the town were burned down in the incident.  But perhaps your house was saved.  Most of these girls were Christians.  So what should you have done the next morning if this was your town?…
THIS IS JACK'S INTRODUCTORY PARAGRAPH, BUT YOU CAN'T READ THE WHOLE ARTICLE UNLESS YOU SUBSCRIBE TO THE ADVENTIST TODAY PRINT MAGAZINE.
AND YOU DIDN'T READ HIS ARTICLE ON THE FIRST ANGEL'S MESSAGE WHEN IT FIRST CAME OUT IN APRIL. AND YOU DIDN"T READ HIS ARTICLE ON A UNIQUE APPLICATION OF THE GREAT CONTROVERSY TO THE CREATION DEBATE, IN JANUARY DID YOU?
THESE AND SCORES OF OTHER THOUGHTFUL MORE DETAILED AND WELL EDITED ARTICLES ARE ONLY AVAILABLE TO READERS OF THE PRINT MAGAZINE. SO WHY ARE YOU NOT A PRINT MAGAZINE SUBSCRIBER?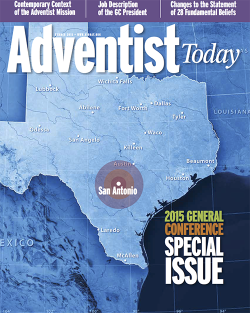 If you care about Adventism, if you care about spiritual growth and progress, if you want your church to be open and honest and impartial, showing both sides of issues we face, you need to support independent Adventist journalism. May I invite you to join the movement to move Adventism forward by sending your subscription to Adventist Today print magazine now? It you want to read the next issue please subscribe now.
Or write a check to Adventist Today for $ 70 now
(that will give you a 3 year subscription)
and mail it with your address to:
Subscriptions
Adventist Today
P.O. Box 1135
Sandy, OR 97055
That's less than the price of a pack of cigarettes per issue! And I don't think you are still smoking are you? The Widow who gave two mites for her church, was giving about $6 in purchasing power today. Can't you support progressive, forward looking, and independent Adventism's voice with less than two mites an issue? And how about doubling or tripling that check to send gift subscription to your children? Let them know there is an Adventism they might still be able to identify with.
Vote YES for recognizing that the Holy Spirit calls both men and women to His service. Vote YES for allowing a Creation Doctrine big enough to fit the facts of creation. Vote YES for open and fair discussion about the Adventist church organization and mission by supporting this web site and the magazine behind it.
Jack looks forward to seeing you in the pages of Adventist Today print magazine. (And he thanks you for your interest in his online blogs.) You may sent him your personal comments at drhoehn@msn.com .