by Smuts van Rooyen  |  11 March 2018
To be dismissed from ministry is more like a divorce than the loss of a job. Overnight I was no longer an esteemed teacher of religion at Andrews University, but a nomad chasing sun devils across the desert. At this wind blown point in my life Des Ford offered me a position with Good News Unlimited in Auburn, California. For two years we preached the gospel together from Finland to New Zealand. I am forever grateful to him. As we all know, he too had been defrocked for heresy by the General Conference. When the vote to dismiss us was taken at headquarters it stipulated that we were never to be reinstated to ministry "regardless of repentance and reformation." Somebody on the disciplinary committee seems to have had quite a bee in his bonnet. But years have passed—and Des has too.
I will remember Des for a particular sermon he preached with calm commitment entitled, "Peace In The Wounds Of Christ." He took as his text John 20:19,20,
"On the evening of that first day of the week, when the disciples were together, with the doors locked for fear of the Jewish leaders, Jesus came and stood among them and said,'Peace be with you!' After he said this, he showed them his hands and side. The disciples were overjoyed when they saw the Lord."
No other sermon has ever moved me so. My sun devils lost their fury and collapsed into the sand. I understood that in the overall scheme of things, in the long term, only one thing mattered: the wounds of our resurrected Lord.
Des Ford never left our church. And the local church at Pacific Union College refused to disfellowship him despite pressure to do so from the brethren in Silver Spring. His expressions of love for Adventism were genuine. He saw Seventh-day Adventism as one of the great Christian denominations on the planet, and worthy of respect. For him this church is a prime example of what God can accomplish by sheer force of grace. God took a group of fanatical New Englanders who, espousing an outrageous interpretation of prophecy, and made of them a religious force for good and for preaching the gospel throughout the earth. Isn't grace truly amazing? What wondrous love is this?
Ford was an Adventist par excellence. Ironically, he exemplified the very best of the institution that rejected him. His life consistently gave joyous expression to Adventist doctrine, albeit on the conservative end of the slide rule. In terms of health reform, for example, it was veggies on the raw side for Sabbath lunch, with sweet, ripe peaches for desert. He physically exercised enough every day to frighten the daylights out of any Adventist fatty within miles of himself—ask me about it. His Sabbath rest was in the finished work of Christ, and in keeping the day holy. Even the doctrinal challenge he raised against the denomination centered on God's gracious judgment for us, on giving a verdict on behalf of his saints. What a relief!
As for Ellen White he sang her praises as one who greatly enriched his devotional life. Above all Des, was committed to righteousness by faith without the deeds of the law. What an Adventist he was!
I believe Des Ford was in his person a grace gift to our church. And by the words "grace gift" I mean a special charisma given by the ascended Christ to the church, intended to bring about the unity of the faith (Ephesians 4:7ff).  His mission was to convince us that our authenticity, our veracity as a denomination does not depend on having a kosher history that is without fault, but on what we do with Jesus in the present. Des nullified our need to defend our difficult past, and invited us to find peace in the wounds of Jesus. 
---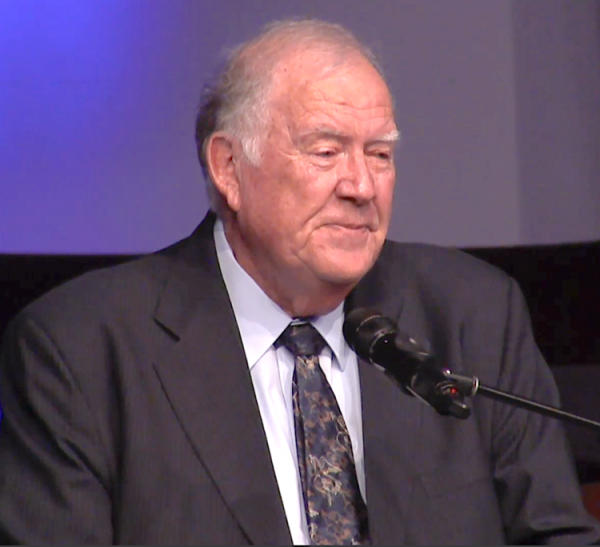 Smuts van Rooyen is a retired pastor living in Central California. He holds an M.Div. and a Ph.D. in Counseling Psychology from Andrews University. His ministry was divided between teaching undergraduate religion and pastoring. He retired as the pastor of the Glendale City Church. He has been married to Arlene for a long time.