By Maylan Schurch, February 15, 2016: Tim Gillespie, lead pastor at Crosswalk Church in
California, has served at both Loma Linda University Medical Center and LLU Church. Tim suggests that
Jesus is more forgiving and understanding than we might think. Failure is a fact, but Jesus forgives. Failure is forgiven. Why did Peter deny Jesus? He was human—and so are we. How do we deny Jesus? When we live without gratitude for what Jesus has done for us. Another way we deny Jesus is when our churches are not places of joy and healing in our community. We need joy—which is different from happiness and niceness. Another way to deny Jesus is to live without a need for Him. Legalism is living without a need for Jesus.
•••
A few minutes ago I heard one middle-aged man during a One Project say to another, "This is great! It's like getting a whole camp meeting in two days!"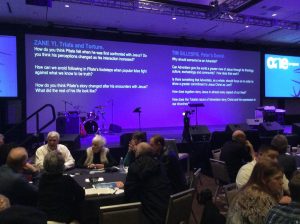 As I stroll through the lobby on breaks, it's interesting to see the people who are here. Many young adults, but also many middle-aged people, and some definitely senior folks. I get the impression that these are the people who are serious about faith in Jesus, and who–within their local churches–are the ones who are involved in its activities, but who also might tend to be uncomfortable and sometimes discouraged with "church as usual." These seem to be the current and future moves and shakers.
•••
Macy McVay is assistant pastor at East Salem Church in Oregon. Right now she is
speaking about Jesus and the thief on the cross. She asked us to imagine the two thieves may have been associated with Barabbas, and that Jesus may have taken the place of Barabbas on the the middle cross.
How are friendships formed? Sometimes through shared suffering. The thieves on either side of Christ are bonded by their mutual hate of the Romans. But then they hear Jesus say, "Forgive them, for they don't know what they are doing." Jesus has brought friendship to Golgotha.