News reports from Silver Spring, Md.; Loma Linda, Calif.; Versacare Corporation; India; Friendensau University; Glendale, Calif.; Andrews University and the 2019 Oshkosh Pathfinder Camporee:
A presentation and accompanying interactive session examining improper handling of church funds will be held at two dates in two locations. "The Hope Center Debacle – – Corruption, Cover-up and GC Complicity?" will look at how a church project in India became an "urgent call for introspection and correction." Presenters at the session are donor representative Dr. Rita Corbett, Ph.D., and Mr. Abhaya Kashyap, advocate, Supreme Court Of India. The event will be held on September 24 at 7:00 p.m. in the Silver Spring Building, One Veterans Place, Silver Spring, Md. It will also be held on September 26 at 7:00 p.m. at Towneplace Suites, 10336 Richardson St., Loma Linda, Calif.
Versacare Corporation has announced it will award $1 million in 2020 for STEM (science, technology, engineering and math) grants to qualifying Adventist primary and secondary schools in North America. The 2020 STEM grant program is open to all NAD local conference or church-sponsored schools, except for those schools that received a Versacare STEM grant in 2018 or 2019.
The funding categories are as follows:
$5,000 for schools of three or fewer classrooms;
$10,000 for schools of four or more classrooms;
$10,000 for senior academies.
The deadline to apply is December 31, 2019. Applications are via the Versacare website. To date, Versacare has provided 229 schools with a total of $1,830,000 in STEM funding.
Right after school on August 13, students from Srivaigundam SDA School in the Indian state of Tamil Nadu, were rushing out to board their auto rickshaws to go back to their homes. The principal of Srivaigundam SDA School, Mr. Muthuraj, beat the students for rushing into the auto rickshaw. A fourth grade girl who got hurt informed her parents, and her father filed a case against the principal at Srivaigundam police station. Police are investigating. An August 14 Tamil language news article describing the incident is pictured below: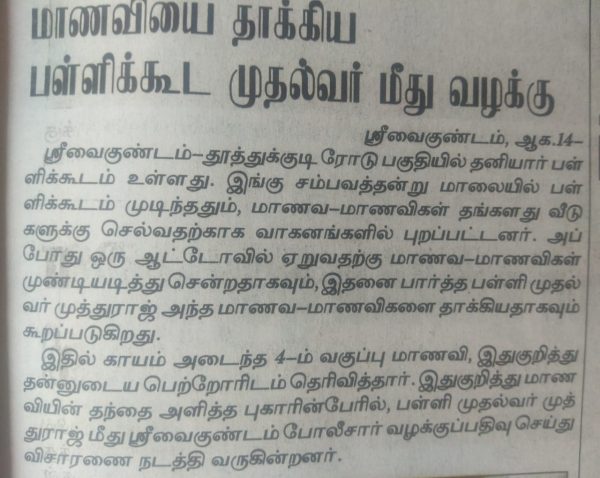 An international conference on central Asia was held at Friendensau University, the Adventist institution of higher education near Magdeburg, Germany, from 18 to 23 August. The 62nd Annual Meeting of the Permanent International Altaistic Conference (PIAC) dealt this year with "state and religion in the Altaic world." The conference examined the history, language and culture of the peoples and ethnic groups, such as Kazakhstan, Kyrgyzstan, Mongolia and the Manchus, in the region of the Central Asian Altai Mountains and adjacent areas of Central Asia.
An Adventist congregation in Glendale, California, is building strong relationships with its community, and one way they're accomplishing this is through the Caesura Youth Orchestra (CYO). This charitable organization, which was launched five years ago, provides free instrumental music education to under-served elementary school-age children in its surrounding neighborhood. "Our congregation has been on a journey to become the best friend to our city by providing tangible expressions of love that bring about transformed lives," said Todd Leonard, pastor at Glendale City Church (GCC).
On Thursday (5 September) Andrews University Press released the long-awaited New International Version (NIV) of the Andrews Study Bible. In addition, nearly 700 new students at AU will receive a complimentary copy, continuing a tradition that began in 2011, but now takes place for the first time with the new edition.
About 6,000 Pathfinders assisted in 57 community service projects in Oshkosh and the surrounding communities during the 2019 Pathfinder Camporee. Each day except Sabbath, buses rolled out morning and afternoon for several hours as teams helped at food pantries, shelters, the humane society, thrift stores, and a plethora of other nonprofit organizations. On Sabbath, an offering of $68,533 was received for Bible & Buck, Adventist World Aviation, and Pathfinder Evangelism in Cuba. Two world records were achieved at the Camporee which were verified by Guinness World Records: Largest human cross (13,309 people) organized by the Association of Adventist Camp Professionals. Largest Pathfinder scarf (4,000 pounds with 2,252,544 stitches, and 300 feet of fabric put together by more than 300 volunteers) organized by the NAD Ministerial Department. At least 1,311 Pathfinders were baptized during the 5 days of the Camporee.