2 November 2023 |
NAD Creates Statement Repudiating Doctrine of Discovery
The North American Division (NAD) released a statement to "unequivocally repudiate the Doctrine of Discovery and the ideas and beliefs that undergirded it," and to "fully commit ourselves to create and foster healthy, respectful, and equitable relationships with the Indigenous Peoples in the United States, Canada, Bermuda and Guam Micronesia. Full statement can be read here.
Results from NAD Executive Committee Vote on October 27, 2023
"On Friday, October 27, the NAD Executive Committee voted the names of Ivan Williams for strategic planning/leadership Vice President; Adam Fenner for Digital Media Vice President; and Chad Grundy for Undertreasurer." Post taken from NAD Adventist on X (formerly Twitter).
Adventist Health Bakersfield Offers Free Immunizations for Kids
"Adventist Health Bakersfield is offering free child immunizations against preventable diseases throughout the month of November. Vaccines are free of charge for children under the age of 18 without health insurance, enrolled in Medi-Cal and American Indian or Native Alaskan, according to organizers." More information can be found at the KGET News site.
Pastors Evangelism Leadership Council (PELC) Conference – Dec. 3-6, 2023
The PELC Conference is designed "to provide world-class training for religious leaders," with seminars slated this year to target local elders, Spanish speakers, and worship pastors/those ministering in the arts. Hosted at Oakwood University, December 3-6. Find out more at PELCPower website.
Ted Wilson Answers Questions from Young People in Africa
"General Conference president Ted N. C. Wilson dialogues with young people from across the West Central-Africa Division on October 28 regarding 'boring church services, affording Adventist education, and marrying outside one's faith.'" Full article at the Adventist Review site.
BONUS: NAD Year-End Meetings Highlight Increase in Scarcity of Pastors
The below slides were shown at the NAD Year-End Meetings depicting the number of "pastors who are retiring and eligible for retirement" along with "the scarcity of pastors in theology programs," according to a Facebook post by Michael W. Campbell, Director of Archives, Statistics, and Research at the North American Division of Seventh-day Adventists. Campbell posts that his office will be "embarking on a special project to study pastors who have graduated from theology programs since the year 2000, to look at what factors have contributed to such losses."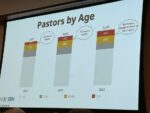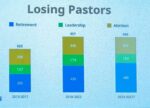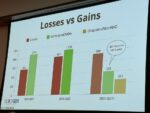 ---