News Briefs for April 14, 2022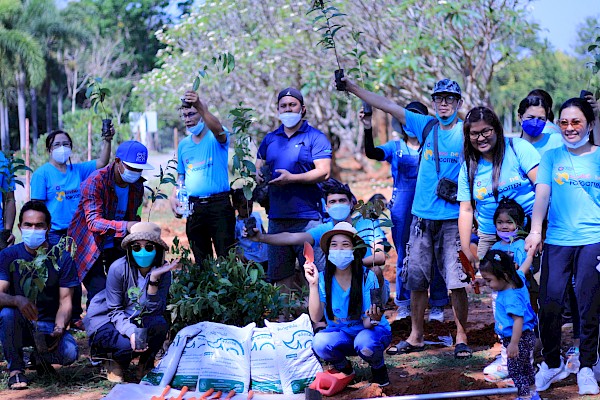 News reports from the General Conference, Germany, India, Thailand, United States.
Planting a Little Good
As part of the Adventist church's Global Youth Day, Adventist youth of Nakhon Ratchasima Province in Thailand organized a tree-planting activity in Nakhon Ratchasima Zoo, or Korat Zoo, reported the Southern Asia-Pacific Division of Seventh-day Adventists.
The group, called #CareTeamKorat, planted 100 pink trumpet tree seedlings inside the zoo, given to them by the Forest Nursery Center of Nakhon Ratchasima Royal Forest Department. More than 60 people participated in the activity, including a handful of kids.
A day before the tree-planting activity, the group donated 20 rims of bond papers, a hundred boxes of facemasks, and hundreds of rolls of toilet paper to a School for the Blind. They also donated several boxes of milk, hundreds of boxes of facemasks, and hundreds of rolls of toilet paper to an orphanage.
Good for What Ails You
The Waldfriede Hospital in Berlin, Germany, was again awarded the title of one of the world's best hospitals, reported the APD. In 2021, the Waldfriede Hospital was named for the first time as one of the "World's Best Hospitals" by the American magazine Newsweek, making it one of the 2,000 best hospitals in the world. This year, Waldfriede made the list again and even moved up 26 places in the list of German hospitals.
Good Show
The International Christian Film Festival (ICFF) awarded the title of "Official Selection" for two episodes of the Adventist documentary series Uncertainty, a nine-episode documentary series that features the life stories of people while trying to highlight the values ​​that are important when facing an uncertain future and emphasizing faith in the midst of that context, reported the Adventist News Network.
The first episode of Uncertainty, which has received its first recognition at a film festival, tells the story of Amy, a young woman who has had epilepsy since she was seven years old and wakes up every day not knowing when or where she might have the next seizure. On the other hand, a fisherman from the Amazon faces the most dangerous animals of that region every day. Every day poses great uncertainty, with his not knowing if he will come home alive or not.
The second episode of Uncertainty tells the story of Inna, an elderly woman from Kyrgyzstan immersed in poverty and with endless doubts about her future. In the same episode, Jahker recounts the uncertainty of living stateless, a drama experienced by thousands of Thais who are stateless—with no documentation and no future because of this reality.
Good Looking Out 
Eyes for India is the long-running It Is Written initiative restoring sight to the blind through cataract surgeries in India. Almost every year, Dr. Jacob Prabhakar, ophthalmologist, and his medical team hold an eye surgery camp at a temple in Northern India. Due to the pandemic, the mega eye camp had been on hold since 2020 but resumed this year.
The backlog of patients encountered this year loomed greater than before, on account of the ongoing pandemic, which kept those who needed help indoors and prevented them from seeking timely medical attention, according to an It Is Written blog post.
Moreover, the surgeries also were reduced to 200 per day due to the COVID restrictions on spacing of beds. Nearly 2,000 patients registered for surgery had to be turned away for want of time and surgical supplies. Despite these setbacks, a total of 2,628 people received the gift of sight.
In Good Hands
One of the most significant orthopedic expansions at Adventist HealthCare Fort Washington Medical Center in Maryland, U.S., involves the use of Mako SmartRobotics, a technology that gives patients access to more sophisticated hip and knee procedures, reported WTOP news.
Essentially, it uses a robotic arm to help guide surgeons as they work.
In clinical studies, Mako SmartRobotics demonstrated the potential for patients to experience less pain, less need for potentially addictive pain medicines, and less need for inpatient physical therapy.
---
(Photo: A youth group called #CareTeamKorat planted 100 pink trumpet tree seedlings inside Korat Zoo in Thailand as part of its Global Youth Day activities. Photo via Southern Asia-Pacific Division of Seventh-day Adventists.)