14 November 2022  |
Dear Aunt Sevvy,
Would it be better for me to marry a Seventh-day Adventist man even if he's not my ideal man, or a man who isn't Seventh-day Adventist but has the qualities I'm looking for?
Signed, Searching
---
Dear Searching,
When Aunty was young, she was told that Adventists should always be married to Adventists—that this magical combination ensured a life of wedded bliss. 
Oh, were it that simple! Experience has shown Aunty that your spouse's being a Seventh-day Adventist doesn't guarantee a happy marriage. She's also seen some very happy marriages between Adventists and spouses who are not. 
Aunty no longer sees an automatic correlation between marital happiness and Adventist church membership. She has come to believe that it is more important to judge a potential marriage partner by (to quote Martin Luther King Jr.) "the content of their character" than by the church they're members of. 
Yes, marrying someone of your faith is generally good advice. It's nice when families worship together. It also simplifies certain choices.
But there's more to "unequally yoked" (2 Corinthians 6:14) than church membership. 
If his not coming to church with you will leave you constantly disappointed, and turn you into a nagging, disapproving wife, then you'd better not marry someone who isn't of your faith. But if it's a choice between an Adventist man who is pious in church but angry, abusive, and controlling at home, or one who doesn't go to church with you but is kind and gracious and principled, which is better? Aunty knows which she would choose. 
Pray deeply, then trust your instincts. 
God bless you in your search,
Aunt Sevvy
PS: Aunty has noticed that Adventists tend to blame faith differences when they have marriage problems, even when there are clearly other causes. Don't do that. Look for the real reason—with professional help, if necessary.
PPS: Adventist parents, Aunty begs you: don't estrange your precious children if they marry outside of their faith. Love who they love. It will pay off in the long run.
---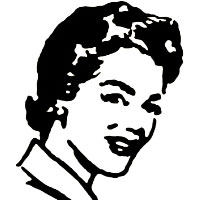 You can write to Aunt Sevvy at DearAuntSevvy@gmail.com. Please keep questions or comments short. What you send us at this address won't necessarily be, but could be, published—without identifying the writer. Aunt Sevvy writes her own column, and her opinions are not necessarily those of Adventist Today's editors.
To join this conversation, click/tap here.