Sent in by Pastor Tony Romeo, posted June 24 by D Kovacs

Read Tony's short article below the poster.

The Benefit "Concerts for Peace" for a Great Cause: The LGBT Center Orlando!
Jonathan Brahms, Flute
and Marjorie Hornik, Piano return in a performance at "Concerts for Peace" on
Sunday, June 26th, 2016 at 3:00 PM at
Historic Manhattan Seventh-day Adventist Church
232 West 11th Street, NYC

With Two Wonderful Musicians NYC Musicians.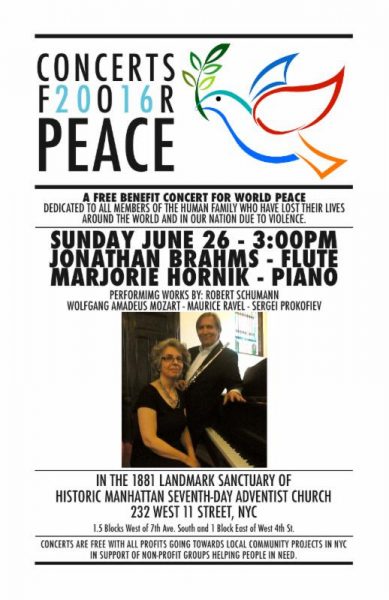 "Concerts for Peace" This Sunday, June 26, 2016 at 3:00 PM and all proceeds donated will be sent to LGBT Center Orlando, Florida who we are partnering with to support the families of those who lost their lives in this beyond tragic event, and survivors who are recovering from their injuries. Join us for this special event and please share this information with your friends. Plan now to be with us for these outstanding opportunities to hear and see great musicians while at the same time helping our friends in Orlando, Florida.
It was the summer of 2015 when Jonathan Brahms, masterfully playing the flute, and the talented Marjorie Kornik, pianist came together and filled the 1881 landmark sanctuary of Historic Manhattan Seventh-day Adventist Church with beautiful and relaxing music.
These two outstanding musicians, both residents of New York City, (Jonathan Brahms who is a local Greenwich Village resident) were part of the very first musicians that performed at the start of the first series of "Concerts for Peace", that have now become a part of great music offerings in the heart of the West Village.
Under the stain glassed windows that grace Historic Manhattan Seventh-day Adventist Church that was built in 1881, it is the perfect setting to enjoy great compositions performed by these classically trained musicians.
Every "Concerts for Peace" features gifted musicians from around the nation, and around the world, and of course local talent from the Greenwich Village, NYC area and surrounding area. Although the concerts are free, all donations, profits and proceeds go to work with nonprofit groups we partner with partners who are helping New Yorkers in need in various ways.