December 14, 2015:    It begins at a city gate where a Roman soldier talks roughly to the crowd and asks people why they are coming to Bethlehem and what they plan to do in town. They hear the rabbi reading from the scroll and see shopkeepers making bread and selling their wares.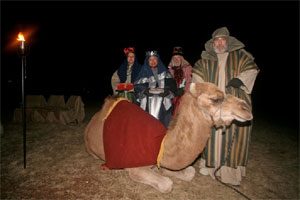 There is a camel, a horse with a Roman captain riding it, a donkey, a calf and three sheep, all real live animals with the natural smells and sounds. Visitors are led through Bethlehem as if they were visiting the village more than 2,000 years ago until at last they arrive at the scene recreating the birthplace of Jesus. The experience takes about a half hour walking with a group of two dozen people and it ends with a hot drink.
"I love what it does for the families that go through," Pastor Michael Pearson of the Meridian Seventh-day Adventist Church told the Idaho Press-Tribune. "It enables people to connect with the real Christmas story."
Journey to Bethlehem is an interactive walk-through experience which is being offered this month at more than a thousand Adventist churches and schools in North America, as well as a few in Australia. At least a half million people, maybe as many as a million will participate.
"It keeps the focus on what Christmas is all about; the story of the birth of Christ," one volunteer told a different newspaper reporter. Some of the churches provide a gift book to each family.
There are churches across the United States and Canada who put in the hard work to do this event each year, but it is especially strong in the states of Washington, Oregon and Idaho where Positive Life Radio, the Adventist radio network based at Walla Walla University, makes a special effort to promote it. Commercial television stations in a number of cities also announce the local event and send out cameras to cover it.
It is not a simple activity. It takes 100 actors in costume and as many as 250 volunteers to assist with everything from parking to tour guides. The Yakima (Washington) congregation has built 21 sets each outfitted with furniture, accessories and other touches all faithful to the time and place; Palestine two thousand years ago. Some smaller congregations have a simpler set up.
Every place it is organized by an Adventist church it requires the help of others outside the congregation, including farmers who loan animals, local residents with specialized skills and civic leaders who help promote the event. This is something that other Christians can join in without any reservations, so it becomes a way to make friends and develop relationships.
In fact, Adventists are not the only ones who do Journey to Bethlehem. There are places where other Christian denominations organize the event.
Some Adventist churches have been mounting this event each year for two decades now. It is usually scheduled for anywhere from two evenings up to ten nights over the two or three weeks leading up to Christmas.
Sadly one of the first Adventist churches to do this outreach cannot do it this year. Journey Adventist Church in Kelso, Washington, had its equipment destroyed by a fire set by an arsonist in late July. It resulted in $60,000 worth of damage and the event had to be canceled to provide time to rebuild.
"It is an opportunity to make the village more authentic," Pastor Jim Wibberding told The Daily News. "Because we're trying to reshape it, we need some time to design it well." The original sets were made of wood and the team plans to rebuild using less flammable materials, he stated.
"We're committed to telling the Jesus story, both for and with our community," he was quoted by the newspaper. As he stood among the ruins for the interview, he said, "I think about the people that have invested so much over the years. This was their creation and now its charred." But, "I see more potential than anything."
The church has 730 members in a town with about 12,000 population, an outer suburb north of Portland, Oregon. It is located at 1185 Westside Highway.
Adventist Today arrived at the estimate of Adventist churches who are using this outreach program based on a Google search of global news media in the English language. A random sample was extracted from the Google search and hand counted to allow for duplicates and see the geographic concentration.