By Carole Derry-Bretsch, Aug. 26, 2015
First, a short note:  How many of you are Southern Gospel Music Fans? There is an incredible contest that I just learned about, that gives you a chance to win 4 tickets to that National Quartet Convention this year, plus some other awesome gifts.
Enter here to win:
AND NOW…
FOR ALL OF OUR SOUTHERN CALIFORNIA FRIENDS
**CONCERT ALERT**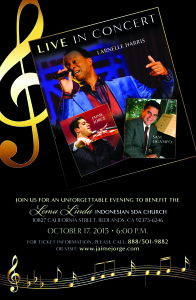 COME AND JOIN OUR FB PAGE – Larnelle Harris and Friends in Concert.
GET YOUR TICKETS TODAY!!!!!!
LARNELLE HARRIS, JAIME JORGE, and SAM OCAMPO IN CONCERT!!!!!
October 17
6:00 PM
Loma Linda Indonesian Church
For ticket information, call 888 501-9882
OR VISIT: www.jaimejorge.com
GET YOUR TICKETS TODAY!!!!!
Only 75 VIP seats close to the artists for only $22.50/seat. Or regular seating $12.50
You do not want to miss this concert! Listen to the legendary, Grammy-winning voice and music of one of the greatest Gospel singers eve—Larnelle Harris; along with the powerful, artistic and from-the-heart musical and testimony experience that Sam Ocampo and Jaime Jorge share.
For the glory of God! For the blessing of God's children! And to benefit the church building fund of the House of the Lord- the Loma Linda Indonesian SDA Church!
A concert for the ages!
Be sure and share the information on your FB page, and with all of your friends.