From ANN, December 23, 2015:    On December 17, Mountain View Christian School in Williamsport, Pennsylvania received a $30,000 check from the Uncle Ben's Beginners contest—thanks to a video about haystacks (a meal resembling a taco salad).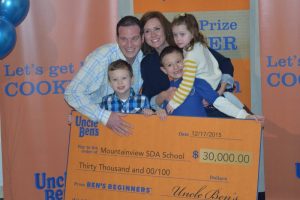 Third grader Jackson Fulmer and his family created a video demonstrating how to make his favorite meal, haystacks. They entered it into the cooking video contest. The video, "The Adventures of Uncle Ben Boy," shows how to make haystacks, a beloved meal of many American Seventh-day Adventists. After being selected as one of 25 finalists, the video was chosen to be among the top five videos with the most votes, making it a grand prize winner.
Jackson, his siblings, Harrison and Waverly, and his mom, April, appeared in the video; and his dad, Jeff, filmed and edited. As Jeff was driving home from work the Friday before the submission deadline, he says the idea just "popped into his head and he had a plan for what they would do."
April says, "We feel like it was divine inspiration to have this opportunity for the school."
Local news, and several Adventist organizations, shared the video and encouraged people to vote for Jackson.
"I was on TV a lot, in the news and on the radio," shares Jackson. "I knew I was going to win. I had a dream about it. … [But] I had to wait and wait and wait [for the results]."
Jackson found out he won on December 10, but kept it a secret from his classmates until the 17th, when they were surprised by a visit from Mars Food representatives, Pennsylvania Conference officials and the mayor of South Williamsport. Representatives from Mars, the parent company of Uncle Ben's, presented the school with a $30,000 check.
Jackson shares that he and his classmates originally wanted to buy an ice cream machine for the school, but decided a smoothie machine would be a healthier option.
April says they would like to see the money used to help create a separate eating room for the 15 students at the school. The students currently eat and play in an all-purpose room.
"We couldn't have done it without everyone faithfully voting for us," says April. "It's been so neat to see our Adventist community rallying behind him. It has been amazing."
See the video here.
Adventist News Network (ANN) is the official news service of the denomination's world headquarters in Washington, DC.