Created and photographed by Debbonnaire Kovacs, posted Dec 14, 2016
For some years I have been working (oh so slowly) on a complete nativity in which all garments are handspun and handmade, either crocheted, knitted, or woven. I plan to use the kind of fibers that the person I'm dressing might have had, so for instance, the holy family's clothes will be made only of linen, wool, or other commonly available fibers, while the magi might have silk or other exotic fibers. (Note: the "art," in this case, is in the making, not the photography! Sorry…)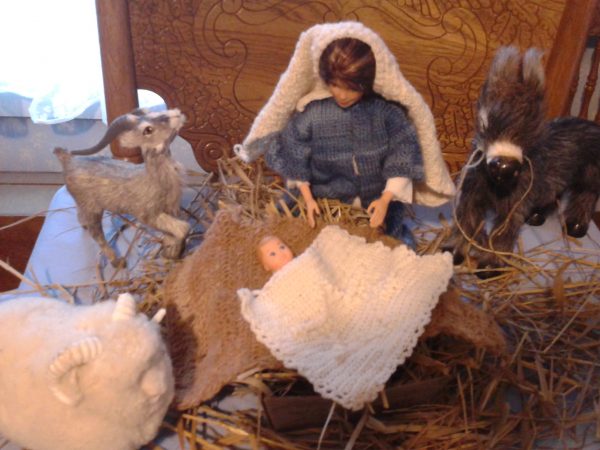 So far, I have only Mary and the baby done. Mary's robe is blue wool, handspun, hand-dyed, and knitted on small needles. Her veil and the baby's blanket are both crocheted from soft white wool, and I created a star of David on the blanket with raised stitches.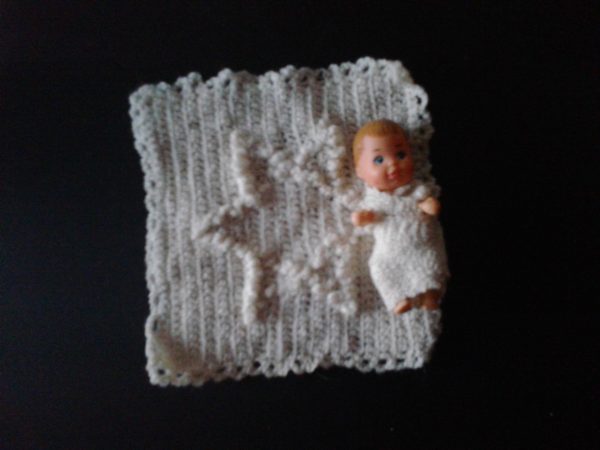 The baby's swaddling clothes (1′ x .8″) are handspun linen, made with a bobbin lace "cloth stitch." Mary's under robe is only muslin right now; it will eventually also be handspun linen. The camel hair blanket on the straw under the baby will be a shepherd's mantle. The donkey's bridle is handspun hemp.
The animals are made of plastic and real fur. I bought them at an outdoor market in Mexico.
I calculate I'll have the whole thing done in another 25 years or so!