by Joni Bell  |  7 March 2023  |
I may be the "queen of returns." I am one of those people who expects to get exactly what is advertised. If I order it on Amazon and it isn't the quality, color, or fit I expected, it will be returned. If that lettuce goes bad days before that expiration date, it's headed back to the store. A playhouse advertises a play that is "family friendly" and I hear profanity? I'm on my way to the box-office. Maybe part of this obsession I have with accuracy stems from a former life as a nurse. You don't just say, "Well, that's about the right amount of insulin." It has to be exactly right! Whether personal or professional, accuracy, truth, and transparency are essential.
These expectations test my faith. Perhaps I was set up for the challenge many years ago when I received a gift: a little volume entitled (I'm going to paraphrase the title) "God's Assurances Answer My Problems." You could go to the index and find just about any issue life might throw at you. An illness, anger, wayward teenagers, and there would be listed a Bible promise for your particular problem. The idea was you claim the promise, and voila! Problem over. That little book intrigued me!
Then the challenge. I have friends and family who left the Adventist church because the trials or sorrows of life seemed to contradict the promises. They typically had taken every word as literal. Since the promises of scripture are true, literally and always applicable, then they reasoned to themselves they were outside of God's grace, or the whole faith thing was false. 
I am writing for those friends and family. Loved ones for whom biblical literalism has proven an enemy.
Literal and always applicable? If someone commits adultery, do we assemble the congregation in the church parking lot and stone the offender? No. Even the ardent fundamentalist would argue, "We don't do that." So, someone has made the decision as to which mandates we follow or which promises are literal and always applicable and which ones aren't? My faith has wrestled with this. I have no choice but to reason, prayerfully examine experience, study scripture, and listen to the voices that have gone before us.
Whatever we ask in faith God provides? What do these Bible promises mean? What if I claim it and it doesn't happen? Do I have sin in my life? Not enough faith? My request isn't being answered. What now?
My philosopher son asks me, "Why don't we pray for limbs to be regenerated?" Oh man, that question really gives me pause. His questions were so much easier to answer when he was six. Doesn't scripture say, "If you ask anything . . ."? There are countless cancer remission accounts and stories of patients in what would seem to be an irreversible coma regaining consciousness. If we serve an all-powerful God, why don't amputees get in on the miracles? Could it all just be coincidence?
Are there no guarantees? The Bible has many examples of God's people being in dangerous situations. John the Baptist was beheaded, James was killed, and Stephen was stoned. I'm sure they prayed to be delivered from the horrors that were before them. And yet, that didn't happen. It would seem God has called us to obedience in spite of the cost. Comfort and safety are not promised. Apparently there is only one guarantee when it comes to sickness, death, trials . . .: "Be thou faithful unto death and I will give thee a crown of life." 

Have you ever encountered a faulty gumball machine? I remember well an excursion to the grocery store with my two toddlers in tow. I had promised them each a quarter to spend on the gumball machine at the end of my grocery shopping if they behaved. This was a big deal, since they seldom got bubble gum. My daughter dropped her quarter into the slot, where it disappeared into oblivion. No gumball. I gently tapped the machine, I not so gently shook the machine. Maybe it was just a fluke. My son dropped his quarter into the machine. We waited expectantly. No gumball. Again, I jostled the machine. Nothing. I was starting to hear sniffles in the background. Finally my daughter, never one for a loss of words, shouted, "That's not fair; we put quarters in." A conversation with the store manager finally put things right, but that incident has stayed with me.
I wonder, do I serve a God of the gumball machine? I'm afraid I've been guilty of this behavior. "If I do – – – – – – – then God must – – – – – -" That's how it works, right? I dropped the quarter in, and I deserve to get exactly what was promised. And it'd better happen now and in precisely the manner in which I expected!
It has taken me many years to realize I'm not in charge. Giving up that perceived control has been a difficult journey. God is sovereign! We live in a suffering world, and God acts as He chooses. There are no guarantees.  
If I "name it and claim it," doesn't that make me in control, not God? Like a magician or wizard with the right formula and incantations, I insert my prayer request and expect to get what I ask for? And when I don't get what I asked for, then what? I'm disappointed, upset, and perhaps even a little angry. Come on, God! "I've been good; I go to church and pay a faithful tithe."  
With time I have come to see prayer as an expression of helplessness and peaceful confidence in God's love in a world of suffering. I'm in the place of submission.
The trouble with so many of these passages we like to claim is that they weren't made to us in our particular circumstances. We read a verse and don't put it into context. We head down a fundamentalist path. Circumstances are out of my control and I'm afraid. I find a passage that I think pertains to my particular situation, claim it, and then stand back with a satisfied grin on my face, knowing I've got God in a headlock. Now He's got to do what I want! I'm in charge; I've got this. He promised. I'm in control.  
In times of difficulty and stress I do need something to hang on to. Are there promises in the Bible given to Christians in time of trouble and worry? Yes! There are many verses we can draw from. God has been and will continue to be with Christians in the midst of difficulties, and His love transforms us in the process. "In this world, you will have tribulation, but be of good cheer, I have overcome the world "(John 16:33). "God is an ever present help in time of trouble" (Psalm 46:1), and "I am with you always, even to the end of the age" (Matthew 28:20).
Anxiety and I have travelled together far more than we should. Here are a couple of passages that are my "go to's" ". . .cast all your anxieties on Him, because He cares for you" (1 Peter 5:5-7), and "Be anxious for nothing but in everything through prayer and supplication with thanksgiving, let your requests be made known to God. And the peace of God which surpasses all comprehension shall guard your hearts and your minds in Christ Jesus" (Philippians 4:6-7). I so need the peace of God to guard my heart. I need to keep my vision focused on Him.
Music holds the power to express thoughts and feelings that I have but may not be able to articulate at times. Music touches my soul in a way nothing else can. There is a transcendence about it that connects me to something greater than myself. The song "Be Still My Soul," by Finnish composer Jean Sibelius and lyricist Katharina von Schlegel, sums up those questions, longings, and reassurances I so desperately need. ". . .Leave to thy God to order and provide. In every change He faithful will remain."
---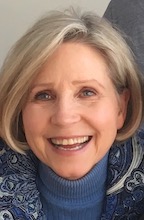 Joni Bell is a contented wife and homemaker with a dodgy past as a psychiatric nurse. She divides her time between Maine and Tennessee.