Sent by Pastor Tony Romeo, posted by Debbonnaire Kovacs, March 2, 2016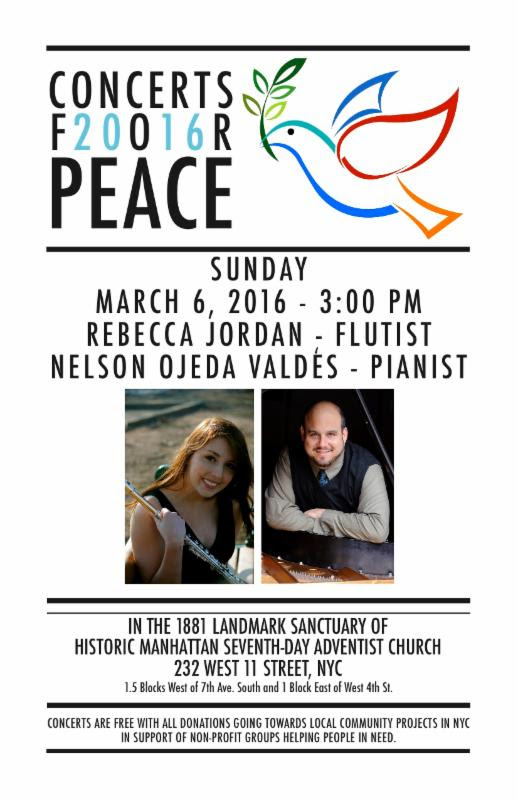 REACH-NYC Concerts for Peace 2016 concert series is starting up now. The outstanding performers come from local talent in New York City, an amazing group from Jerusalem, Israel, and a tremendous group of talented choral and orchestra members, coming all the way from California.
On Sunday, March 6, 2016 at 3:00 pm, two amazing performers, Rebecca Jordan, Flutist and Nelson Ojeda Valdes, pianist performers will begin the 2016 season with their outstanding music.
On Saturday evening, April 9, 2016 at 7:30 PM, the Atar Trio from Jerusalem, Israel return to New York City presenting "Dream within a Dream," part of their Israel & America Tour 2016. The music they performed last season was simply amazing, and in attendance were members of the Israeli Consulate, as well as many neighbors from the Greenwich Village community. This is one concert that you will not want to miss.
On Saturday evening, May 21, 2016 at 6:00 PM, Strike up the band and sing for joy, as The San Gabriel Academy Choir and Orchestra fill the stage with great music. Over 50 talented musicians and voices will be performing and joining together, combining their talents in a rare performance. Mark down these dates and be sure to invite your friends to all of these amazing concerts.
The Concerts for Peace series was enjoyed by hundreds of people from the New York City and Greenwich Village area in 2015, and the new series is sure to bring great music back to the 1881 New York City Landmark Sanctuary of Historic Manhattan Seventh-day Adventist Church, 232 West 11th Street, NYC, where the concerts have found a home.
The concerts remain free to the public and all donations received will be given to local non-profit groups that REACH-NYC and our partners at Historic Manhattan Seventh-day Adventist Church work with in and around the New York City area.
Please help us spread the word and join us at one of these outstanding concerts.
————
REACH-NYC also is continuing our Multi-Faith small group gatherings at the venue we rent at First Presbyterian Church in the City of New York, located in the Library of this outstanding venue, at 12 West 12th Street, NYC, just west of Fifth Ave.
All gatherings in the remainder of February through March will be help on Thursday evenings starting at 7:00 PM with lively discussions on Biblical topics and topics of the day that affect all of our lives. We wrap up at 8:45 PM. It is a chance to share your ideas, journeys, and thoughts and a great place to make new friends in a welcoming atmosphere, where all faith traditions are welcome.