By Carole Derry-Bretsch, posted Sept. 2, 2015
For continual concert and event news, go to Carole Derry-Bretsch's FB page called Carole's World. Once you reach the page, just ask to join, and Carole will accept you. Carole's World lists concerts and events around the country for you to attend.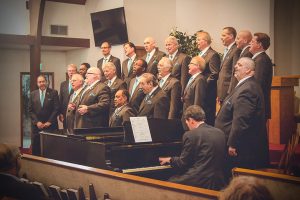 Christian Edition began in 1981 as the Eagle Rock Men's Chorus. Over the years, Christian Edition has sung at hundreds of churches of many different denominations all over the United States and Canada, in venues as varied as the New Orleans Superdome, the Los Angeles Convention Center, the Ontario Convention Center, the Dorothy Chandler Pavilion, the Tivoli Theater, the Crystal Cathedral, the Mount Hermon Christian Conference Center, Focus on the Family Headquarters, and the Russell Senate Building for the National Day of Prayer. Christian Edition is also heard regularly on 3ABN (Three Angels Broadcasting Network), on Family Reunion Music videos, the Hope Channel Network, Family Radio, and on the SiriusXM Radio program Enlighten.
In its history, Christian Edition has also performed with such highly acclaimed singers such as Andy Williams, Steve Green, Linda Darnell, and most recently with Sandi Patty several times for concerts in southern California. Over 100 men have sung with Christian Edition in the ensuing years, and six pianists have blessed us with their keyboard artistry.
Christian Edition truly believes that you do not attend their programs by accident, but that God led you there to reaffirm with you His love for you, to remind you that you can rely on His power for your every need, and to realize that His grace IS sufficient for all who accept Him. Our prayer is that when you leave a worship service with Christian Edition you will be inspired to share with everyone you meet the joy and happiness God has brought into your life.
For Information on Christian Edition, Recordings, Concerts,visit www.christianedition.com.
To book a concert, call Dennis Shogren at: 800 578-8262. If you can't reach him, please leave a message.
Our Christian Edition FB Page, and Christian Edition Caribbean Cruise, June 2016 FB page,
And, our Christian Edition YouTube Channel
As long as God leads, we will continue to go where He directs
                      and share the gospel in song with those He brings to us.
SPECIAL INFORMATION ABOUT OUR CARIBBEAN CRUISE, 2016
"Music and Mission Cruise 2016"
with
Christian Edition, A Men's Chorus
Join us in a special and memorable Cruise to the Western Caribbean with Christian Edition, A Men's Chorus which will be celebrating its 35 years of music ministry. Our featured speaker is Karl Haffner, award winning author and senior pastor at Kettering Adventist Church near Dayton, Ohio.
The theme, "Music and Mission," makes this seven-night Caribbean Cruise extra special. In addition to worship concerts featuring Christian Edition's music and Karl Haffner's talks, the "M & M Cruise" includes voluntary mission projects at ports of call in Mexico, Grand Cayman and Falmouth, Jamaica. The opportunities to connect with new friends, and reconnect with old ones, are always the most cherished moments, and the memories created will last a lifetime. The ports are unique and beautiful, and the beaches gorgeous and warm.
We will be sailing from Galveston, TX on Royal Caribbean's Liberty of the Seas from June 12-19, 2016. Please talk to our friends at Montrose Travel (800-301-9673), if you would like more information. Or you can go to www.christianedition.com, to see our brochure. All bookings must be made through Montrose Travel to be a part of the on ship concerts, worship services, and port mission projects. As a special 'thank you' for joining us, all full paying passengers will receive a $290.00 tax deductible receipt.
We look forward to meeting you on the ship.
Calvin Knipschild, Director
Christian Edition, A Men's Chorus
**CHRISTIAN EDITION CONCERT RE-PLAY**
The Christian Edition vespers concert from last Sabbath at the Loma Linda University Church Camp Meeting will be shown again on LLBN Television, or www.llbn.tv online ( in an edited version) at the following times (all time are Pacific Time Zone).
Saturday, September 5 @ 5:00 p.m.
Sunday, September 6 @ 4:00 a.m.
Wednesday, September 9 @ 8:00 p.m.
Friday, September 11 @ 12.00 noon