By Briana Pastorino, Media Relations Specialist, Loma Linda University Health; posted October 21, 2015     [Editor's note: We have written about Loma Linda's PossAbilities Program for differently abled athletes before (here and here). Here is a story sent to me about a pro-surfer who knows what it's like to have your life turned upside down…and to keep on anyway. And keep reading after her story; you will meet a few other people who are set to take hold of life, not let it take hold of them. DLK]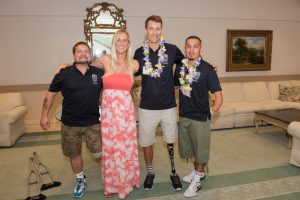 Bethany Hamilton spoke to a crowd of approximately 280 people at the PossAbilities Sports Luncheon Wednesday, Oct. 14, at Loma Linda University Health.
Hamilton, 25, shared her personal story of triumph, challenge and "soul surfing" during the fundraising event, which raised over $125,000 for PossAbilities, the free community outreach program that offers disabled individuals who were born with or have suffered a permanent physical injury a sense of community and a healthy social network as well as various resources and opportunities they might not otherwise have.
On Oct. 31, 2003, Hamilton's left arm was bitten off by a 14-foot tiger shark while surfing in Kauai. Although she initially thought her career was over, she returned to the water just over one month after the attack.
"I was overcome with feelings of triumph and joy," she said, adding that she thought that maybe she'd be able to encourage others through her experience.
She continued, "Anyone can go through traumatic times, but my life is a testimony to others that we can overcome challenges in life."
Hamilton's words resonated with the crowd, especially those U.S. Paralympic Team hopefuls from PossAbilities on the Road to Rio. The four athletes vying for a spot on the 2016 Paralympic Team in Rio de Janeiro will directly benefit from the funds raised at the sports luncheon. They are:
Also benefiting from the fundraiser was Zimri Solis, a PossAbilities member who at age 10 was diagnosed with meningococcal meningitis—a rare infection that causes the membrane covering the brain and spinal cord to become inflamed. To save his life, doctors had to amputate one of his legs and both hands. Now 33, Solis' goal is to one day be a Paralympic triathlete.
During the luncheon, participants were encouraged to "dash for cash," to raise funds for a new prosthetic leg Solis has needed for some time. With a goal of raising $5,000, attendees were excited to play and support Solis. Thanks to the generosity of the crowd, $16,000 was raised.
Also recognized during the event was the adult trauma nurse coordinator Michael May, who has been a member of the Loma Linda University Health family since 1985. He was honored with the Humanitarian Award for his service and dedication to the healing of others.
"Through his spirit he shows love, through his kindness he shows compassion, and he is truly an earth angel," said Cotie Williams, manager, community outreach & patient experience, Loma Linda University Medical Center East Campus.
For more information on PossAbilities and the Road to Rio program, visit TeamPossAbilities.org.