22 May 2023  |
Dear Aunt Sevvy,
My son is a postgraduate who wants to date Christian girls but is having difficulty finding suitable individuals. Where do you recommend he should look to meet decent girls with his academic background?
Signed, Concerned Mother
---
Dear Concerned, 
How to find an Adventist wife or husband is among the most frequent questions Aunty receives. 
What interests Aunty is a mother asking for her adult son. Presumably, at this age he should be able to find his own way in the dating world. Does your postgraduate son want his mother's help in finding a "decent girl"? And what constitutes a "decent girl"—by his assessment, or yours? 
So my first bit of advice is to assess whether your involvement is wanted or needed. Maybe there are reasons he's not in a relationship right now.
But assuming your son has deputized you to ask Aunty, let her offer what wisdom she has. 
The simple answer is, most people find spouses in places where there are likely to be eligible single people. Many of us met our spouses in church or at a church-related school. Unlike in the past, young adults nowadays aren't at those places like they used to be. Still, the short answer is: if you want a Christian spouse, you probably should look where Christian young adults are gathered—and yes, I know, that can be difficult, depending on your location.
Aunt Sevvy has also seen many Christian young (and not-so-young) people find success with online dating. I know that online dating can be extremely frustrating: there are a lot of unsuitable matches that must be sorted through before finding the right match. The advantage of online dating is that you can meet people who are looking for the same things you are—even if you aren't a person who attends a lot of social functions, or aren't extroverted enough to find yourself chatting up strangers at vespers. 
Prayers for your son—and for you. 
Aunt Sevvy
---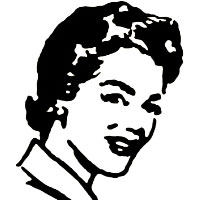 You can write to Aunt Sevvy at DearAuntSevvy@gmail.com. Please keep questions or comments short. What you send us at this address won't necessarily be, but could be, published—without identifying the writer. Aunt Sevvy writes her own column, and her opinions are not necessarily those of Adventist Today's editors.
To join this conversation, click/tap here.