Andrews University Stands with Benton Harbor High Against Governor Whitmer's Proposed Closure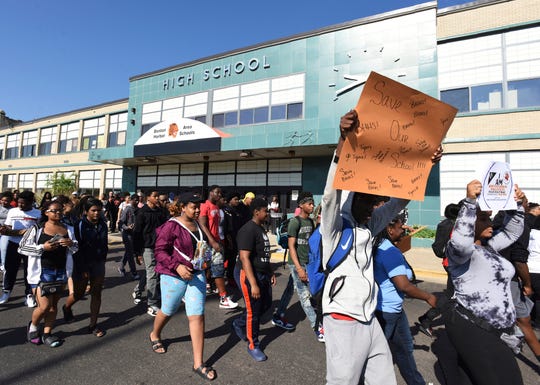 Andrea Luxton, president of Andrews University, announced that the university commits itself to assisting Benton Harbor High School, which now faces the possibility of closing come the end of the upcoming academic year. 
In May of this year, Michigan's Governor Whitmer proposed that the high school—which has operated in Berrien County, Michigan, since the 1870s—close its doors, and in so doing the district would be forgiven $18.4 million in debt, reports the New York Times. While some may view this as a wise financial maneuver, Benton Harbor's community claims the state is guilty of racism, and of not doing enough to help the underprivileged.
Benton Harbor, which hosts a population of around 10,000, retains a median income of $17,301 and a demographic that identifies as 89 percent black. This is not the first scenario of Michigan attempting to close a public school in a largely black community. 
The state contends that trickling enrollment and stifling low literacy rates, and even lower test scores, in addition to the school's debt, pose major causes for concern. Whitmer defended her stance, claiming, "The worst thing we can do is graduate kids who aren't prepared for the real world."
Although residents recognize the issues the school faces, they also believe the state is largely responsible for those issues by having ignored the community. For example, St. Joseph, a neighboring town in Berrien County, also boasts a census of 10,000, 88 percent of whom are Caucasian and who earn a median income of $50,000. St. Joseph residents have not faced the same economic and educational struggles. Benton's residents argue that if the state poured more effort into developing their town, the future of its youth would not be jeopardized.
Herein enters Andrews University, which is located 15 miles southeast of the high school. 
"We do recognize the historic challenges faced by the Benton Harbor Area Schools (BHAS) district and the needs for an increasingly strong academic environment for the children of Benton Harbor," Luxton said in a statement regarding the district's current predicament. "We also share in the hope for an initial endorsement of those formal strategies and proposed solutions outlined by BHAS. …"
Luxton also shared plans for assisting the school, stating:
"Andrews University is committed to supporting the students, teachers, parents and administrators of the Benton Harbor Area Schools and in particular, is committed to partner with the school district in ensuring that the children of Benton Harbor have a robust and successful educational experience within the city in which they live. For that reason, Andrews University is fully committed to join with Benton Harbor Area Schools as they identify and implement best practices to have more certified instructors, more engaging classrooms, and provide more family and parenting support.

Ultimately, Andrews University stands with Benton Harbor, and we actively pray for, support and celebrate the community's enduring spirit that shines on, even against and amidst these challenging situations."
Luxton's full statement can be read online at the Andrews University website [https://www.andrews.edu/agenda/53294/].
The question remaining is, can the necessary changes be successfully implemented before the end of the next school year? 
###
Berrien County has a population of 156,813 out of which 10,021 are Seventh-day Adventists. According to the 2010 US Census of Religion, it is the largest Protestant denomination in the county. Four Adventist congregations, with a total membership of 908, reside in Benton Harbor.
Photo: Don Campbell, The Herald-Palladium via AP