From ANN, August 18, 2015:   As monsoon rains continue in flood-devastated Myanmar, Adventists throughout the country are responding to the overwhelming needs. Current national news reports indicate the death toll has passed 100 and almost one million people have been affected, a number of whom were already displaced before the flooding.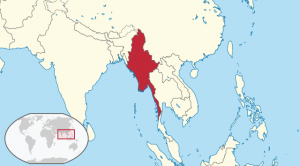 The Myanmar Union Mission (MYUM) has organized the Central Emergency Disaster Response Committee (CEDRC) to implement Adventist relief work through various small groups. Last week they assisted 110 families in upper Myanmar, and this week relief teams are in the areas surrounding Yangon and in the hard-hit Ayeyarwaddy region.
Adventist schools, churches and individual members are also contributing through fundraising, relief supply donations and on-site relief efforts.
Yangon Adventist Seminary (YAS) students collected $400 USD in funds for students at their sister institution, Upper Myanmar Adventist Seminary, located in Kalaymo, which is in one of the regions declared under a state of emergency. Local churches across Myanmar have donated funds, food items, clothing and ready-to-eat meals. An Adventist restauranteur donated food boxes for all relief teams so they could continue their work in disaster areas.
A team from Adventist World Radio has also joined the efforts by partnering with YAS teachers and students. On August 13 they delivered relief supplies and provide support to an isolated village 170 miles from the nation's capital of Yangon.
Water continues to cover the village's roads, houses, schools and jetty. Of the 109 families there, more than 500 people have been affected. The flood destroyed their homes as well as the rice paddy fields which serve as their source of livelihood. According to the villagers, the Adventist group was the first to arrive with assistance.
Meanwhile, on the same day in southern Mynamar, Ayeyarwaddy Mission (AM) President Khin Maung Latt, Executive Secretary A One Thein and other relief team members also distributed food items. As part of a MYUM's overall strategic plan to assist both community and church members, the AM team focused that day's efforts on a village where more than 70 members live.
With the effects of the flood devastation challenging relief efforts, groups such as the Adventist denomination and ADRA have enormous opportunities to assist as many survivors as they can. While it may seem that the response is limited in comparison to the overwhelming needs, Adventist church leaders in Myanmar believe that Adventists there can still make a powerful impact in survivors' lives through an organized, compassionate response.
Myanmar is one of the 14 countries within the Southern Asia-Pacific Division. With Buddhism as the main religion, it is home to 230 Adventist churches and over 28,000 Adventists.
For current news about ADRA Myanmar's activities, please go to https://www.facebook.com/AdventistDevelopmentAndReliefAgencyMyanmar. Donations can be given through ADRA International at www.adra.org.
The Adventist News Network (ANN) is the official news service of the Seventh-day Adventist denomination.