By Carole Derry-Bretsch, posted Dec 30, 2015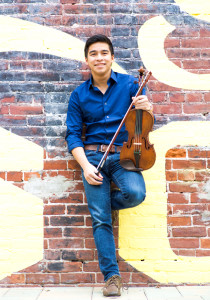 I am so excited to introduce you all to my "adopted nephew," Miclen LaiPang. Miclen and his parents are our adopted family, and I call his mom and dad my sister and brother. At age 20, Miclen has reached people in over 43 countries with his incredible violin music, and love for Jesus.
For those of you who watch Kids' Time on 3ABN, you have seen Miclen play on Kids Time Praise, from the time he was very young. On December 19, Miclen was a part of the Kids' Time Reunion Special on 3ABN. After the Reunion, Miclen blessed the people in attendance with a special concert for them.
And for those that attend the VOP Sponsorship Weekends, you have been blessed by Miclen's music for over ten years.
Besides Miclen's ministry, he is an accomplished classical violinist and has been pursuing his Bachelors of Music degree in Violin Performance at both the number one ranked Eastman School of Music and the University of Miami. He has soloed with over 15 orchestras and at a number of venues such as Carnegie Hall, Jordan Hall, Walt Disney Concert Hall, and more.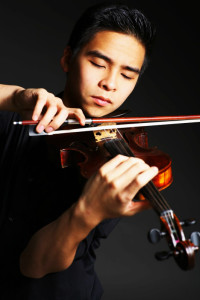 Acclaimed by the New York Times as "a force to be reckoned with," Miclen LaiPang is one of rising stars of his generation. Taking after his older brother Sherwin Thia, now a first violinist in the Malaysian Philharmonic Orchestra, Miclen started his first violin lesson at the age of three. Determined to be just like his sibling, one year later he performed his first recital and then began his illustrious career as a child prodigy in violin.
At age 8, he was the grand-prize winner of the Merit Award audition for the University Of Redlands Community School Of Music. Later that year he also won first place in the American String Teachers Association Competition after just turning 9 years old. In 2006, he was awarded the Caroline S. Pike Scholarship for winning first place at the 55th Annual Redlands Bowl Young Artist Competition in which he was the youngest of all of the competitors. By his 11th birthday, he auditioned to be the fiddler for the play "Fiddler on the Roof" at the Yucaipa Little Theater in September 2007.
Miclen was a scholarship recipient of the Young Musicians Foundation in which he performed with the YMF/Balmat National Orchestra at Mt. Rushmore, SD in 2007. Building on his ever growing list of accomplishments, Miclen appeared as a soloist in 2007 with the San Fernando Valley Symphony, after being the first-place winner of the concerto competition held by the SFV Music Teachers' Association of California in 2008. After earning highest honors in both piano and violin in the Certificate of Merit Music Examinations from 2005 to 2008, Miclen was selected to perform at the MTAC Convention held in Northern and Southern California.
Slowly making a name for himself at such a tender age, he performed as a soloist at the collegiate level with the Southern Adventist University Orchestra as a result of winning the SAU concerto competition in Tennessee in 2009.
In July 2010, Miclen was invited to play all three movements of the Mendelssohn Violin Concerto at the Redlands Bowl with the Redlands Symphony under the baton of Maestro Frank Fetta. After just the second year of joining the Claremont Young Musicians Orchestra (CYMO), he won the concerto competition in 2008. He then performed as a soloist with the orchestra, performing the third movement of Mendelssohn's Concerto in 2009 as well as earning the position of co-concertmaster. As a result of CYMO restrictions of not being able to win two consecutive years, in 2010 Miclen joined the competition a last time and dominated once again. After winning this competition, in 2011 he performed the third movement of Tchaikovsky's Violin Concerto with CYMO. He performed for the 2011 Pasadena Showcase House of Design luncheon meeting, representing Colburn School of Music.
In his young career as a violinist, he has performed extensively both in the US and abroad.
Visit Miclen's YouTube Channel with his videos reaching over 100,000 views and his website. You can sign up for his newsletter there, to keep up with all of Miclen's concerts and other musical events in his life.
Follow Miclen on Facebook, Instagram, Twitter, or sign up for his newsletter on his website by scrolling to the bottom of the Cover page and entering your email in the box.
To book Miclen for either a classical and/or sacred concert, benefit concert, or event, contact him at –miclen@miclenlaipang.com.