by Ron Hessel  |  8 October 2022  |  
I got my undergrad degree in theology in the last half of the '70s. Lots of confusing stuff was happening in that era in the Adventist world, particularly around the investigative judgment doctrine. Reputations were teetering on the edge. Careers were at stake. 
I just ducked my head and steered clear. By the time I got my degree and started teaching in 1980 I was so paranoid and confused by the whole discussion that I decided to give the investigative judgment a wide berth, for fear of saying the wrong thing to the wrong person at the wrong time. 
After almost a decade in the classroom and about the same length of time in pastoral ministry, I accepted the challenge to preach through our doctrines—at the time, just 27 of them. I decided to anchor each doctrine in Jesus, and all went well until I got to the investigative judgment. 
In my paranoia, I tried to skip preaching on that Fundamental Belief, but several members reminded me almost weekly that they were anxiously waiting to hear it because it had been a long time since they had heard anyone preach on that particular "pillar." I was stuck.
Foundational principle for handling tough passages
Let's start with this basic interpretational question: Why did Jesus come to this earth? Was it to get God to change His mind about us? Or to get us to change our minds about God? If the story of salvation was about getting us to change our minds about God, not the other way around, then, I found, I should open my heart to a better understanding of the investigative judgment, in particular the teaching of the Day of Atonement that is its basis. 
What my study revealed to me was that the Day of Atonement is a rich metaphor that goes beyond just getting rid of sin. 
Destroying sin and the record of sin
In the sacrificial system, the daily sacrifices represented Jesus as the Lamb being slain for our sin. As far as salvation goes, that's enough. I'm not sure how it works, but the promise is there that Jesus died for me and took care of the sin problem for all of us. 
What my study of the sanctuary revealed was the further story of atonement. Leviticus 16 says that on the Day of Atonement, the high priest offers a sacrifice for himself and then
From the Israelite community he is to take two male goats for a sin offering and a ram for a burnt offering. … He is to cast lots for the two goats—one lot for the Lord and the other for the scapegoat. Aaron shall bring the goat whose lot falls to the Lord and sacrifice it for a sin offering. 
It's a bloody metaphor, one that graphically grabbed the attention of those in attendance. One of the goats is sacrificed for a sin offering, but unlike on other days of the year when the lamb was sacrificed and its blood was ceremonially transferred into the Most Holy Place of the sanctuary, this time the priest was to take the blood into the Most Holy Place to clean it. 
Your favorite laundry soap company is never going to come out with a new detergent advertised as "100% blood, guaranteed to get your whites their whitest." Nobody in their right mind thinks smearing blood on something is going to clean it. Obviously something symbolic is happening here. But what is it? What is the status of those sins that are still somehow recorded in the sanctuary?
I can tell you what isn't happening. Those sins aren't being looked at by God, or anyone else, while saying to Himself, "Let me see, did this sin get forgiven? What about this one? Hmmm, I wonder about this one; has Hessel repented of this one yet?" 
That is not what is happening, because the sacrifice of Jesus already got rid of my sins. 
How do we know that? Because the only way the record of those sins is in the Most Holy Place is if they have already been forgiven. Whatever is happening on the Day of Atonement or during the investigative judgment, it is not biblical to say to that our sins are being evaluated to see if we are fit to be saved.
Because no matter how long God or anyone else looks at the sins in the Most Holy Place, the only thing He will find is the blood of the Lamb, Christ's blood in place of ours. No unforgiven sin in sight. 
So, what is going on? 
What is happening is all that blood that is a record of all the sin that has been destroyed by Christ on the cross is now removed. On the cross Christ's sacrifice destroyed sin. Now not only is our sin destroyed—even the record of our sin is destroyed. 
The destruction of the originator of sin
But God isn't done yet. There were two goats. One was sacrificed, the other one meets an untimely death. The high priest smears some of the blood on the other goat and then (according to Leviticus 16:22): 
The goat will carry on itself all their sins to a remote place; and the man shall release it in the wilderness.
There is some misunderstanding regarding this second goat. As Adventists we have identified the two goats as representing Jesus and the devil. We do this because one is described as the Lord's goat and the other is referred to as the scapegoat, or for Azazel. 
Since it appears to be the opposite of the Lord's goat, we identify it as Satan. Some people have taken this to mean that we believe that Satan provides atonement for us. 
Let me say this very clearly: that is not what we believe at all. Satan has nothing to do with providing atonement for us. I do not know of one Adventist scholar, or one church leader, or any religious nut, who believes that Satan provides our atonement. If that were the Adventist position—that Satan had anything to do with our atonement—I would be the first one to jump ship. I'd quit the church right now. 
So, what is going on here?
When that defenseless blood-smeared goat is let loose in the wilderness, how long does it last? Not very long. It is destroyed. Quickly and completely. 
Yes, it's an awful picture. But it has a point. After sin is taken away, after the record of sin is destroyed, in this horrible vignette we see even the originator of sin being destroyed. This is a foreshadowing of Revelation 20. 
It is enough for me to have my sin done away with on the cross, but God wanted to do more. God wants to make sure that sin can never hurt us again. So, God destroys the record of the sin—nobody can bring it up again—and then destroys the originator of the sin
But wait—there's more.
The effects of sin are destroyed
Leviticus goes on to describe how everything that had to do with this ceremony is either burned or washed. 
When Christ comes again, it isn't enough for Him to have destroyed the record of sin, or even the originator of sin. When Christ comes again, this earth is made new. It is burned and washed. Our bodies are made new. We are completely reborn. God doesn't want to just destroy our sin, destroy the record of our sin, and destroy the originator of our sin. When Jesus comes again, God will even destroy all the effects of our sin.
I think back to my dad just before he died a few years ago. I don't want Dad to be raised up as he was the last time I saw him—old, shrunken, drooling, sitting in a wheelchair, wearing a diaper, demented. I'm looking forward to the time when those graves open, and we all come forward—not as we went into those graves decimated by sin, but in the fullness of life, free from even the effects of sin. 
That is God's plan for us. And these additional understandings are shown in the Day of Atonement, which is then reflected in Adventists' teaching of the Investigative Judgment.
God is practically giddy about it. This is the gift God wants to give you. 
First, God takes away our sin through death on the cross. I still don't know how that works, but I'm so thankful for it. 
But that isn't enough. God wipes away the record of that sin, so nobody can bring it up again. 
Then our amazing God will destroy the originator of sin—there will come a time when the devil won't be able to tempt or hurt or destroy anyone anymore. 
But it gets better than that: God is going to make us like new. Aches and pains, gone. Cancer and all manner of disease, gone. Scars and scar tissue, arthritis and broken bones, Parkinson's and Alzheimer's—all gone.
Let me say again: the sacrifice of Jesus is still enough, all in itself. But I've found in the rich Day of Atonement metaphors that stand behind the Adventist doctrine of the Investigative Judgment some additional lessons about God's love, and what God wants for us.
---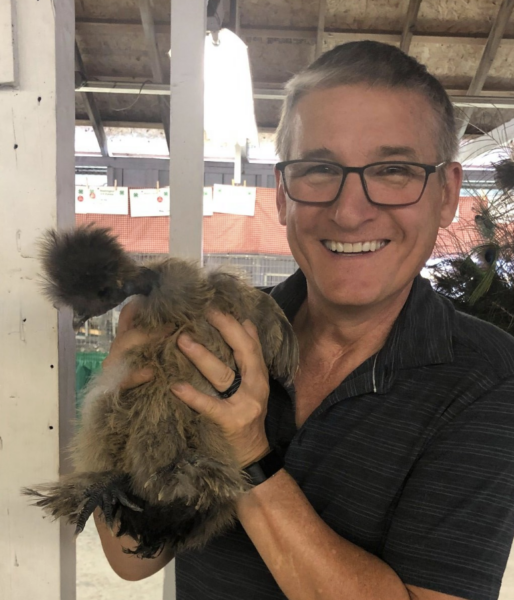 Ron Hessel is a pastor working for Summit Northwest Ministries in the Upper Columbia Conference.
To join this conversation about the IJ, click/tap here.