By Jemuel Anderson, edited and posted by Debbonnaire Kovacs, Jan 13, 2016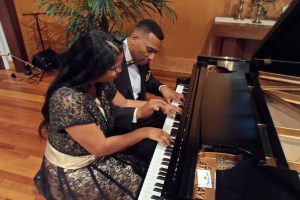 Donna-Maria and Jemuel Anderson are two musicians who love arranging, playing and creating music pieces for piano, organ (solos/duets) and vocal selections. Their friendship of over twenty-five years has given their marriage a rich foundation for which they praise God.  Donna-Maria has traveled to share music ministry with fellow worshippers who enjoy lifting praises to God through singing and piano music. Jemuel has traveled around the U.S. and overseas sharing his God given skills and talents in piano concert ministry. He has had the honor of opening for Maya Angelou, Steve Green, Kurt Carr and others. Both Donna-Maria and Jemuel have ministered at the 2010 and 2015 General Conference Sessions. While they credit God for their musical abilities, they are quick to share that their respective families of origin gave them the music launch at tender ages.
If you ever get the opportunity to experience the piano ministry of this husband and wife duo, the harmony that fills the room comes not only from the music they share but also the harmony of love they have for each other. Sharing the piano bench is a challenge they cherish because it gives numerous opportunities to creatively carry out their keyboard responsibilities while enthusiastically enjoying abundant and intentional warm, caring touches.
For example, the theme for Mozart's sonata in C is introduced by Donna-Maria whose ascending and descending intervals are delicately echoed and overlaid with Jemuel's lilting piano entrance which redesigns the theme. Before long he reaches around his wife's waist and plays the upper register of the piano while embracing her. During this closely nestled hold that requires skillful maneuvers to avoid a collision of bones and notes, engaging piano transitions quickly escalate to a contemporary rendering of "Shout to the Lord."  This song then introduces a softened reminder of God's beautiful love through a surprising and short introduction of "My Jesus I Love Thee" before returning to Mozart's theme. These three selections energetically woven into one piano arrangement are audible testaments to how wonderfully the three beings in the Godhead have worked in the Anderson's respective lives. Recognition of their Creator propels them to praise God when arranging selections or ministering live to fellow worshippers around the nation.
Their piano ministry was a hidden blessing for a long time.
"Playing the piano together was never part of our courtship. We were married for several months and didn't even consider arranging music, much less playing together. It simply never came to mind," Jemuel explains. "We never imagined or planned for the blessings God has allowed us to enjoy."
Donna-Maria reveals that the closest they came to music was listening to classical music CDs together and discussing with each other the appreciation they shared for the various composers. "One evening, we sat down at the piano and picked out chords for the hymn, "When We All Get to Heaven" and had so much fun," reflected Donna-Maria. "We sat in our living room and laughed about having to reach and move in order to share the piano. God was watching. He blessed our fun times. We didn't know He would transition us out of our living room."
One Sabbath morning while sitting in their home church Sabbath School class, the music director came and asked the Anderson's if they could provide emergency special music because a program participant hadn't arrived and there was no time to spare. Neither Jemuel nor Donna-Maria had spent time practicing any solo selections that week and they quickly informed the music director that although they'd be willing to help, it was best to not fill in this time.
The next desperate question falling from the music director's lips must have been inspired by the Holy Spirit, "Don't you have anything you can play together? Anything?  We will be happy for whatever you can do to help."
The Andersons smiled deeply into each other's eyes as they recounted the story. "The music director agreed to give them a literal minute to make a quick decision when there was a visible reaction on their faces to the question just posed.  Jemuel and his wife quickly quizzed each other about the possibility of this being God's will. They prayed, asking for God's strength and wisdom. They decided to share the living room piano duo experience."
When the music director returned Jemuel and Donna-Maria shared their decision and were instructed to head to the piano and play after the speaker finished his remarks.
"We walked to the piano bench and God blessed and filled our fingers with His energies", Jemuel says with intense humility. "We had nothing to offer, we were sharing what He had been blessing us with at home."
And so was the genesis of 4Hands4Him—which at the time was called the Anderson couple. Approaching eight years of marriage and of arranging music together, God sparked a name into Jemuel's mind one Sabbath morning for their musical hands and it has stuck. Every arrangement begins with prayer and glorifies God throughout all stages of its development.
Sister Carol Barron, the joyfully retired North American Division Adult Ministries administrative assistant from the General Conference, is Donna-Maria's mother. Long before Jemuel and Donna-Maria set eyes on each other, Jemuel and Sr. Barron, whom Jemuel now refers to as "Mother in Christ", knew each other.  As a member of the General Conference music committee, over the years, Sr. Barron would commission Jemuel to share his ministry as a piano soloist.  Today, the three of them truly enjoy each other's company.
Look for them in 2016, on Hope Channel up coming episode of My Story, My Song. You can also see and hear them in our Music Department, here.