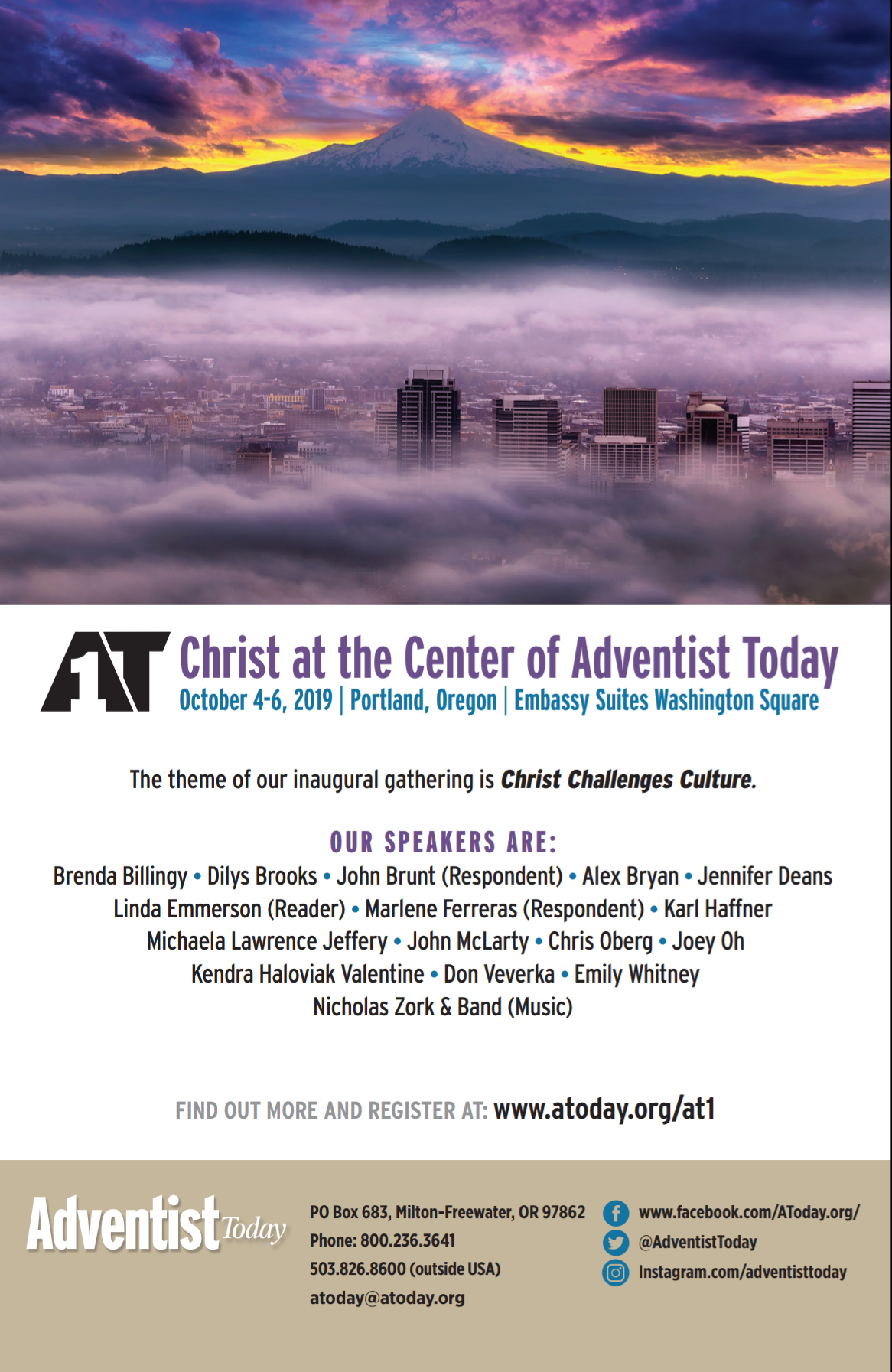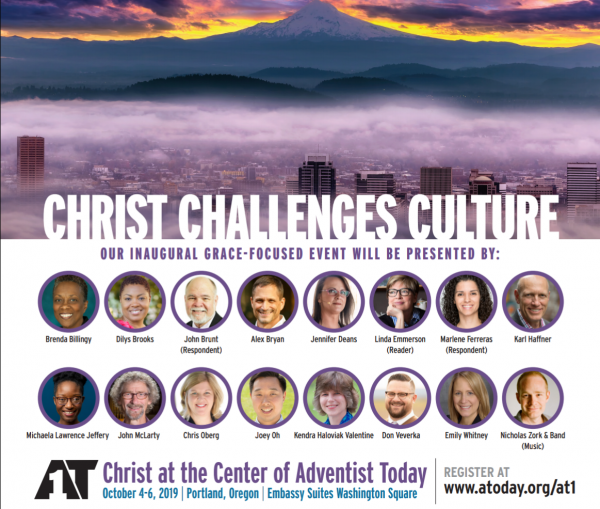 Frequently Asked Questions
What is AT1?
AT1 (pronounced "At One") is a brand new camp meeting-style gathering for the Adventist community. It is a call to be one body in Christ. Our theme is "Christ Challenges Culture." AT1 will call everyone who attends to reimagine the Adventist narrative to fully embrace the reassuring, present truth of God's love and grace.
When and where does AT1 take place?
AT1 will take place over the weekend of October 4-6, 2019 at the

Embassy Suites Washington Square

, in Portland, Oregon. The program starts Friday evening at 7 p.m., continues all day Sabbath, and finishes on Sunday around noon.
What's the point of AT1?
The whole point of AT1 is to gather as one body of Christ and be inspired by how Jesus challenges culture. This isn't a time to argue and debate or talk insider baseball about church policy. This is a fresh kind of fellowship where we are encouraged by uplifting music, presentations and art blending beautifully as we worship and spend time getting to know each other. AT1 is a reminder that there is reconciliation in Jesus.
Who's this thing for?
You are warmly welcome whether you are an active, happy Adventist, a lifelong Adventist disappointed in recent decisions by the General Conference or a person with Adventist family ties and some interest in where things may be going with the denomination. We are inclusive and accepting of all, regardless of nationality, ethnicity, income, gender, sexuality, background or persuasion.
Why should I care about AT1?
This is an important time to be a progressive Adventist. General Conference leadership is attempting to narrow the parameters of our global community and AT1 resists this kind of arbitrary approach to faith. We believe that true unity can only come through generous, open faith that takes seriously the love and grace of Jesus. AT1 aims to help write an optimistic, hope-filled new chapter in the Adventist story and we need your help to do so.
Do we really need another gathering?
We think so. However, this isn't your average Adventist gathering. It's fellowship of like-minded people that believe that unity in Jesus is never forced. AT1 is an invitation to think deeply about how Jesus challenges today's culture. AT1 isn't organized or controlled by church bureaucrats, it's a place for authentic spiritual growth and a celebration of grace in Jesus.
What is the schedule for AT1?
Friday – October 4
5:00 pm – Attendee Check-in
7:00 pm – Opening Plenary Session
8:30 pm – Vendor Showcase
Saturday – October 5
7:00 am – Vendor Showcase
8:30 am – Plenary Session
10:00 am – Break / Vendor Showcase
10:30 am – Plenary Session
Noon – Lunch Provided & Fellowship
2:00 pm – Plenary Session
3:30 pm – Break / Vendor Showcase
4:00 pm – Plenary Session
5:30 pm – Vendor Showcase
Sunday – October 6
7 am – Vendor Showcase
8:00 am – Plenary Session
10:00 am – Break / Vendor Showcase
10:30 am – Plenary Session
Noon – Travel Safely
Who is speaking?
All of our presenters will be pointing us to Christ who calls us together and challenges us to be positive change agents in today's culture. Here's a list of confirmed speakers along with their topics and the portion of scripture they will explore:
Alex Bryan, former senior pastor, Walla Walla University Church and current administrative director for mission identity for Adventist Health – Motives – Matthew 5:8
Karl Haffner, senior pastor, Kettering Seventh-day Adventist Church – Lust – Matthew 5:27-28
John McLarty, former executive editor for Adventist Today, current senior pastor, Green Lake Church in Seattle – The Rich – Mark 10:21-25
Michaela Lawrence Jeffery, senior pastor, Athens Georgia Seventh-day Adventist Church – False Testimony – Matthew 15:18-20
Chris Oberg, lead pastor, La Sierra University Church – Lifestyle – But ye are to be perfect, as your Father in heaven is perfect – Matthew 5:48
Emily Whitney, spiritual discipleship pastor, Summit Northwest Ministries in Post Falls, Idaho – Sabbath – Mark 2:27-28
Jennifer Deans – senior pastor, Living Faith Seventh-day Adventist Church in Sterling, Virginia – True Christians – John 13:34-35
Brenda Billingy – senior pastor, Metropolitan Church, Allegheny East Conference & NAD Ministerial – The Final Exam – Matthew 25:34-40
Kendra Haloviak Valentine – professor of New Testament Studies, H.M.S. Richards Divinity School, La Sierra University – Homeless – Luke: 9:57-58
Dilys Brooks – campus chaplain, Loma Linda University – Anger – Matthew 5:21-22
Don Veverka – Community Relations Manager, Whitman Place – Grief – John 11:18-35
Joey Oh – pastor, Loma Linda University Church – Complacency – Matthew 12:30
John Brunt – author, New Testament theologian and former pastor at Azure Hills Seventh-day Adventist Church in Grand Terrace, California  – Respondent
Marlene Ferreras – assistant professor of Practical Theology, H.M.S. Richards Divinity School, La Sierra University – Respondent
Linda Emmerson – instructor of philosophy, Walla Walla University – Reader
Who's behind this thing?
AT1 is organized by Adventist Today, an independent journalism and innovative ministry publisher, with a 25-year history of being authentic and accessible. It is not sponsored or controlled by the General Conference or any other denominational entity.
Where do I stay during AT1?
Everyone's staying at the Embassy Suites Washington Square where the event takes place. The hotel group rate is $151 per night ++ for single, double, triple, or quad occupancy and includes complimentary parking, internet in sleeping rooms, and cooked-to-order breakfast. Rates are available from October 4 – 6, 2019. If you want to arrive a day or two early for the event and sightsee in the area, reduced rates are available if you identify yourself with AT1. Check-in: 3:00 pm. Check-out: 12:00 pm. Space is limited at this rate,

so please reserve your room today.
How do I get to AT1?
The hotel is 17 miles from Portland International Airport. Major car rental companies are an option, as are UBER & LYFT. Sorry, there is no shuttle service.
How much does registration cost?
Late Registration — July 1 thru October 4 — $350.00
The AT1 late registration fee of $350 has been reduced to $150 for students! If you are a student or you would like to sponsor a student to attend AT1, take advantage of this special offer by clicking on this link to register for the October 4-6 gathering.
How can I be an exhibitor at AT1?
Please send an email to atoday@atoday.org or call 800.236.3641 to introduce yourself and share how you can add value to the people who attend this event. Let us know how to reach you by email or phone, and we will get in touch with you. Here is the rate for our remaining table:
8′ Rectangle Table — $550.00 (One Spot Available)