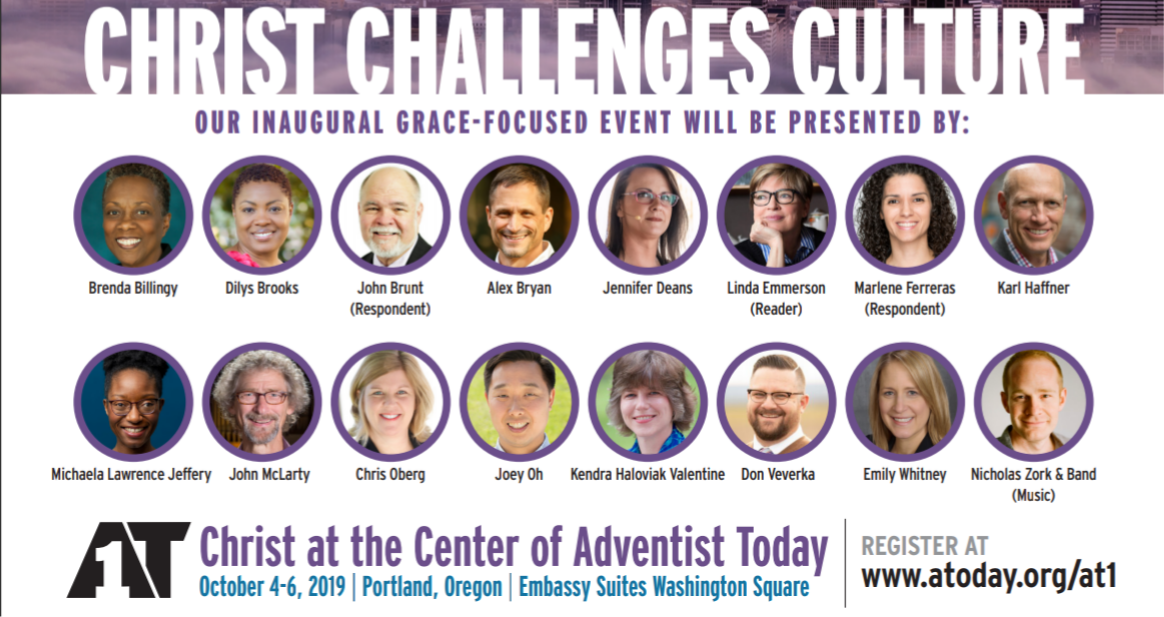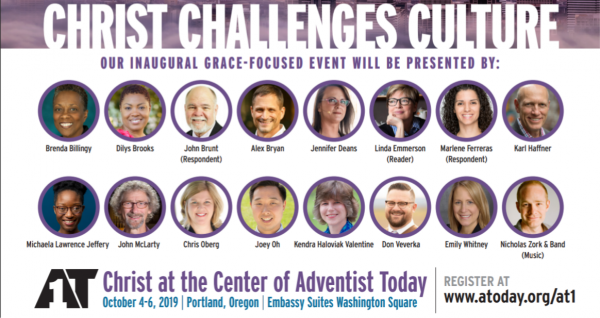 We are delighted to be able to share videos and an extensive picture gallery of the Inaugural AT1 gathering that was held in Portland from October 4-6, 2019. The theme of our grace-focused weekend was Christ Challenges Culture. 
Enjoy the videos and pictures and please share them with your friends. This marks the start of a new chapter for the progressive Adventist narrative.
PLEASE FIND THE VIDEOS FOLLOWED BY THE PHOTO GALLERY BELOW. BOTH THE VIDEOS AND PICTURES ARE ARRANGED IN CHRONOLOGICAL ORDER AS THE AT1 WEEKEND UNFOLDED:
Friday Evening, October 4
Dan Linrud
President, Oregon Conference, Gladstone OR
Title: Loving Well
Scripture: 1 John 4:16-21
https://vimeo.com/367905643
Dilys Brooks
Associate Chaplain, Loma Linda University, Loma Linda CA
Title: Dancing With Anger
Scripture: Ephesians 4:20-27
https://vimeo.com/367697699
Sabbath Morning, October 5
Jennifer Deans
Pastor, Living Faith Church, Chantilly VA
Title: True Christians
Scripture: John 13:34-35
https://vimeo.com/367915704
Karl Haffner
Vice President for Student Experience, Loma Linda University CA
Title: Lust
Scripture: Matthew 5:27-30
https://vimeo.com/367933042
Kendra Haloviak Valentine
Professor of New Testament Studies, La Sierra University's HMS Richards Divinity School Riverside CA
Title: Afraid? No Faith?
Scripture: Mark 4:35-41
https://vimeo.com/368232424
Alex Bryan
Mission Identity Executive at Adventist Health, Roseville CA
Title: Motives
Scripture: Matthew 5:8
https://vimeo.com/368308839
Sabbath Afternoon, October 5
Joey Oh
Associate Pastor for Administration at Loma Linda University Church, CA
Title: Us and Them
Scripture: Matthew 12:30
https://vimeo.com/368395700
Chris Oberg
Senior Pastor, La Sierra University Church, Riverside CA
Title: Lifestyle
Scripture: Matthew 5:48
https://vimeo.com/368426862
Emily Whitney
Spiritual Discipleship Pastor, Summit Northwest Ministries, Post Falls ID
Title: Sabbath
Scripture: Mark 2:23-28
https://vimeo.com/368496881
John McLarty
Senior Pastor, Green Lake Church. Seattle WA
Title: Rich Friends of Jesus
Scripture: Luke 8:1-3
https://vimeo.com/368649827
Sunday Morning, October 6
Michaela Lawrence Jeffery
Pastor, Athens Church. Athens GA
Title: Vain Worship
Scripture: Matthew 15:18-20
https://vimeo.com/368773282
Don Veverka
Community Relations Manager, Whitman Place, Walla Walla WA
Title: Grief
Scripture: John 11:18-35
https://vimeo.com/368919447
Brenda Billingy
Associate Director, Ministerial Association, North American Division
Title: The Final Exam
Scripture: Matthew 25:34-40
https://vimeo.com/369436508
Enjoy the AT1 Photo Gallery below. Pictures are arranged in chronological order, featuring the AT1 gathering as it took place. A HUGE thanks goes out to Delwin Finch who took all the pictures.
[envira-gallery id="54203″]