Julius Nam: Peace Church or Self-Defense Church?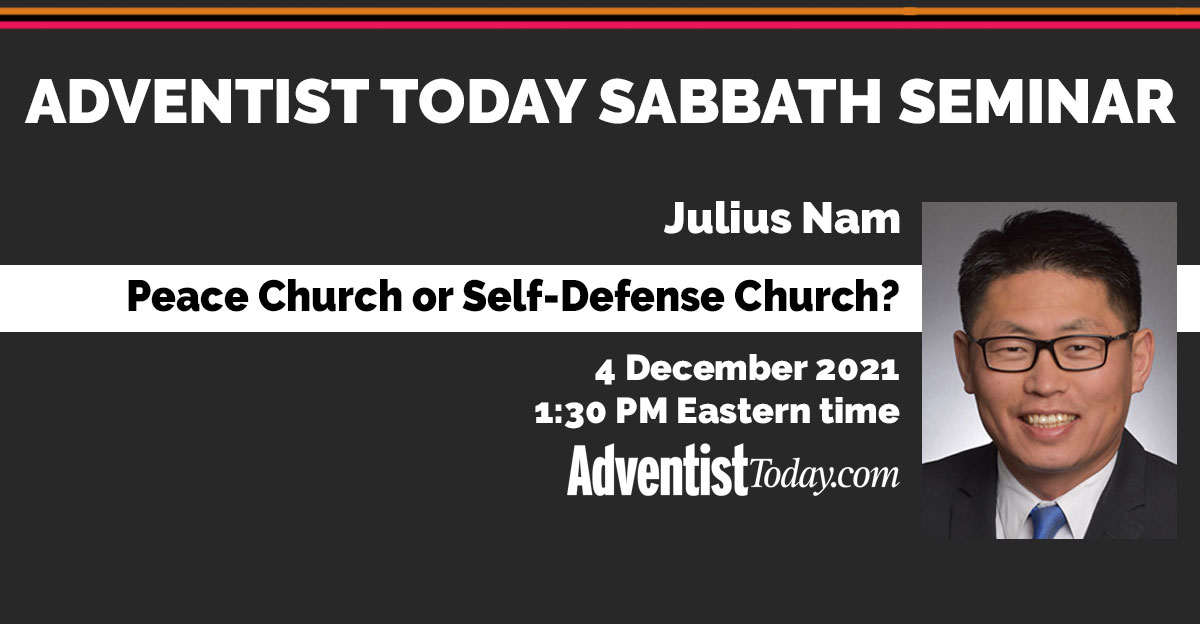 4 December 2021  |
This Sabbath, we explore Seventh-day Adventism's checkered relationship with war, peace, military service, weapons, and self-preservation. Although "noncombatancy" (service in the military unarmed at all times) is not one of the church's fundamental beliefs, it remains the official position of the church on military service.
In 1954 and 1972, the General Conference reaffirmed:
Genuine Christianity manifests itself in good citizenship and loyalty to civil government. The breaking out of war among men in no way alters the Christian's supreme allegiance and responsibility to God or modifies their obligation to practice their beliefs and put God first. This partnership with God through Jesus Christ who came into this world not to destroy men's lives but to save them causes Seventh-day Adventists to advocate a noncombatant position, following their divine Master in not taking human life, but rendering all possible service to save it.
In addition, in 1990 the General Conference released another official statement on the sale of assault weapons:
Automatic or semi-automatic military-style weapons are … made to kill people. They have no legitimate recreational use…. Christ came into the world to save lives, not to destroy them (Luke 9:56). When Peter drew his weapon Jesus said to him: 'Put your sword back in its place . . . All who take the sword will die by the sword' (Matt. 26:52 TEV). Jesus did not engage in violence.
At the same time, the writings of Ellen White show that keeping and bearing of firearms for personal purposes was not unusual. In 1865, White warned her son Edson:
You know, Edson, I talked with you in regard to guns and firearms and cautioned you to restrain yourself on these points lest you should obtain a passion to possess such things, which are dangerous.
While acknowledging the danger of firearms, White does not outright condemn arms-bearing. While traveling in the Western states in 1879, White wrote in a letter to her children:
We have to be very well armed in passing through the Indian territory. We have our wagons brought up in a circle, then our horses are placed within the circle. We have two men to watch. They are relieved every two hours. They carry their guns upon their shoulders. We have less fears from Indians than from white men who employ the Indians to make a stampede among the horses and mules and ponies.
These statements appear to be in tension with the 1864 statement by the General Conference to the U.S. government to obtain the "peace church" status and exemption from service in the Union army: Adventists
have ever been conscientiously opposed to bearing arms… Our practice has uniformly been consistent.
Our practice does not appear to have been uniformly consistent.
Teacher:
Julius Nam is an attorney in Riverside. He formerly taught Adventist history at Loma Linda University School of Religion and Pacific Union College Religion Department. He holds a PhD, MA, and BA in religion from Andrews University, and a JD from UCLA School of Law.
Moderator:
Raj Attiken is a former Ohio Conference president, and adjunct professor at Kettering College.
How to join:
When:
ATSS starting time depends on where you are. If you're on the west coast of the United States, it'll be 10:30 AM. On the east coast, 1:30 PM.
Times around the world:
Reykjavík: 5:30 PM
College Place: 10:30 AM
Lincoln: 12:30 PM
Denver: 11:30 AM
Bracknell: 6:30 PM
Loma Linda: 10:30 AM
Nairobi: 8:30 PM
Gackle: 12:30 PM
Hosur: 11:00 PM
Waco: 12:30 PM
Tulsa: 12:30 PM
Helsinki: 8:30 PM
Stockholm: 7:30 PM
Hamburg: 7:30 PM
Cape Town: 7:30 PM
Madrid: 7:30 PM
Paris: 7:30 PM
Honolulu: 7:30 AM
Cooranbong: 5:30 AM (Sunday)
Perth: 2:30 AM (Sunday)
The class is intended to last about 2 hours, though the conversation often continues to 4 PM.
About our class:
The AT Sabbath Seminar is intended to be a courteous forum. We discuss and ask questions politely. We don't accuse, get angry, or put people down.
Stick to the topic in both comments and chat discussion.
Make your comments and questions short—don't dominate.
Keep your microphones muted unless you are called upon to make your comment or ask your question.
Indicate your interest in speaking by raising your electronic hand—under the "reactions" button.
Please use your name when you sign in! Not your phone number, not your initials. This will help us differentiate you from unwelcome guests who want to disrupt us. You can set your name after signing on by clicking on the 3 dots next to your picture, which drops down a menu.
If it should happen that we are attacked so that we have to stop the meeting, we'll quickly post a new meeting link on our AT Facebook page.
We look forward to getting acquainted with you!
Coming up:
December 11: Denis Fortin on Ecumenism
December 18: Maury Jackson
December 25: Kris Widmer on Christmas
January 1: David Geelan on endings and beginnings
January 8: Christie Chow
---