Julius Nam: Ancient Neighbors, Present Gospel • 9/18/21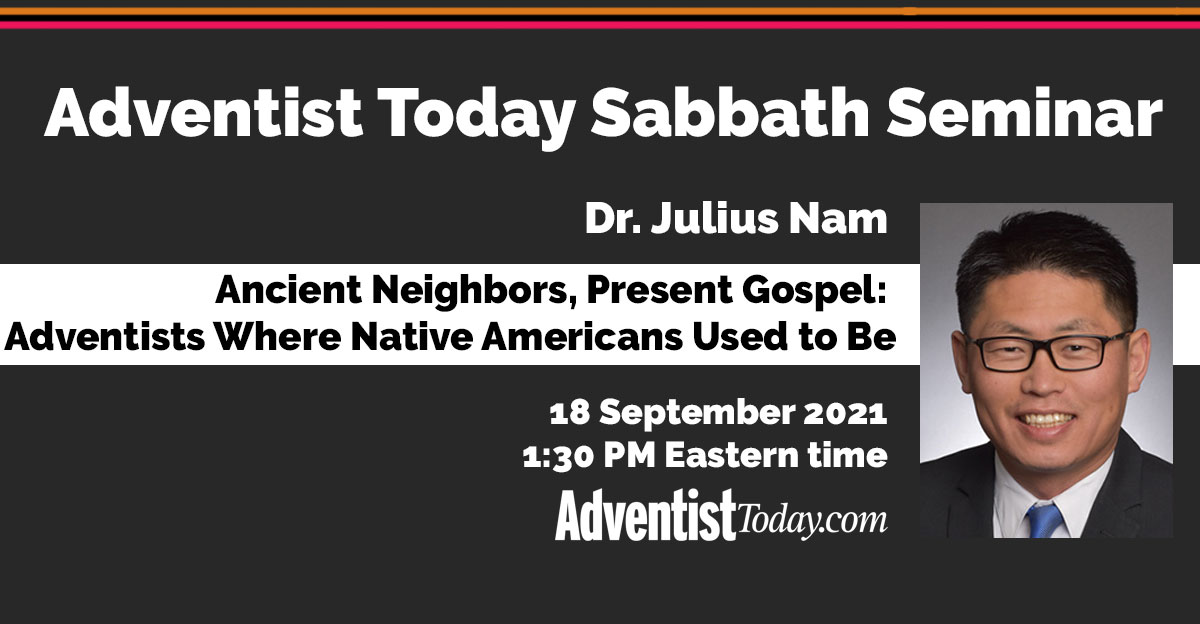 15 September 2021  |
Ancient Neighbors, Present Gospel
Berrien Springs, Collegedale, Huntsville, Takoma Park, Angwin, Loma Linda. What do they have in common?
The answer is obvious to those familiar with the story of Seventh-day Adventists in the United States. These are towns where Adventists planted their educational institutions over a century ago and grew them to become the thriving communities that they are today.
Stories of Adventists who established or transplanted schools that are now called Andrews University, Southern Adventist University, Oakwood University, Washington Adventist University, Pacific Union College, and Loma Linda University begin with visions, dreams, and adventures of bold, courageous Adventists who took leaps of faith to set up the fledgling centers of advent hope.
Histories of these Adventist enclaves always begin with the advent of Adventists—much like the traditional histories of America began with the arrival of Columbus, the Spanish, the English, the Pilgrims. Even in this postmodern age, American historiography is still grappling with how to acknowledge, embrace, and incorporate the stories of the First Peoples, the Native Americans, the American Indians. Often, the question is framed as: How should we relate with the stories of those who were here before us? Well, that depends on how "us" is defined. The same is true with the Adventist story.
Should the Adventist story relate with, acknowledge, embrace, and incorporate the stories of Indians who were driven away from their homes and villages a generation (or two) before Adventists arrived with their visions, dreams, and prophetic charts? In some cases, when Adventists established their humble schools on the same grounds where Indians lived, hunted, and tilled the land, the children of Indians who were massacred and robbed of their homes were living not too far away.
Should the stories of the displaced Indians, whose sacred lands Adventists now occupy, be part of the Adventist story that aspires to preach the everlasting gospel to every nation, tribe, tongue, and people?
Should the stories of American Indian remnants, now in diaspora, and their post-apocalyptic songs by the waters of Colorado and Mississippi, also be part of our canon of memory and longing?
What do the truths of the sanctuary and the messages of the three apocalyptic angels compel us to do?
I invite you to join me in a review of the advent of Adventists in our vaunted communities, long purged of our ancient neighbors and haunted with painful yearnings, and to meditate on how we might herald the shalom of Sabbath to our present, still-displaced neighbors, as we continue to occupy till He comes.
Guest teacher:
Julius J. Nam is an attorney and a former religion professor who lives in Loma Linda, the historical home of Gauchama Indians.
Moderator:
Gina Jett is an attorney who lives in Sacramento, California.
How to join:
When:
ATSS starting time depends on where you are. If you're on the west coast of the United States, it'll be 10:30 AM. On the east coast, 1:30 PM.
Times around the world:
Reykjavík: 5:30 PM
College Place: 10:30 AM
Lincoln: 12:30 PM
Denver: 11:30 AM
Bracknell: 6:30 PM
Loma Linda: 10:30 AM
Nairobi: 8:30 PM
Gackle: 12:30 PM
Hosur: 11:00 PM
Waco: 12:30 PM
Tulsa: 12:30 PM
Helsinki: 8:30 PM
Stockholm: 7:30 PM
Hamburg: 7:30 PM
Capetown: 7:30 PM
Madrid: 7:30 PM
Paris: 7:30 PM
Honolulu: 7:30 AM
Cooranbong: 3:30 AM (Sunday)
Perth: 1:30 AM (Sunday)
The class is intended to last about 2 hours, though the conversation often continues to 4 PM.
About our class:
The AT Sabbath Seminar is intended to be a courteous forum. We discuss and ask questions politely. We don't accuse, get angry, or put people down.
Make your comments and questions short—don't dominate.
Keep your microphones muted unless you are called upon to make your comment or ask your question.
Indicate your interest in speaking by raising your electronic hand—under the "reactions" button.
Those who make accusations or unkind statements will be muted or removed.
Please use your name when you sign in! Not your phone number, not your initials. This will help us differentiate you from unwelcome guests who want to disrupt us. You can set your name after signing on by clicking on the 3 dots next to your picture, which drops down a menu.
If it should happen that we are attacked so that we have to stop the meeting, we'll quickly post a new meeting link on our AT Facebook page.
We look forward to getting acquainted with you!
Coming up:
25 September: John Mclarty
October: Laura Wibberding
Denis Fortin on Ecumenism
Stanley Patterson
---