by Hannele Ottschofski  |  2 December 2019  |  
Read Part 1 here.
Read Part 3 here.
The current discussion about the ordination of women has been going on for over 50 years. Many books and articles for and against it have been written, and various commissions have studied thoroughly what the Bible says about the question, most recently by the Theology of Ordination Study Committee, or TOSC.[1]
Dr. Leona Running, professor of ancient languages, wrote an open letter in August 2012 to General Conference President Ted Wilson, who had studied Hebrew at the Theological Seminary under her.
Dear Pastor Ted:
Please read thoughtfully in the book of Acts, chapters 2, 10-11, and 15. In our day the Holy Spirit is leading our Church to take advanced steps as He did at the Council of Acts 15.
In Western societies we can no longer tolerate the Church's gender discrimination. Such prejudices as that and racism should be overcome at conversion if the converts could be taught by people who have overcome them, themselves. The Holy Spirit is now saying to the Adventist Church in North America, Europe and Australia to stop dilly-dallying and proceed to ordain the called, trained, effective women pastors and stop this unchristian discrimination. Otherwise we will lose the whole next generation and the Latter Rain cannot come.
The subject has been well studied for years—The Welcome Table (1995) and the Seminary's Women in Ministry (1998) contained well-researched, top-quality chapters years ago. The Western Churches that are ready to follow the Holy Spirit's leading will show the way to the other countries' Churches; they will not split the Church—but if you try to stop what the Holy Spirit is leading to be accomplished, you will split the Church!
Peter and Paul had to break down the wall between Jews and Gentiles in their day (Gal 3:28). In our day we must break down the walls of racism and gender discrimination. As I told you months ago, I pray every day that God will help you be a shepherd and not a dictator. I hope that prayer will be answered.
With warm regards, your Hebrew teacher, nearly 96,
Leona G. Running
Professor emerita of Biblical Languages, Ph.D. DHL
Seminary, Andrews University
Women are allowed to serve as pastors in the Seventh-day Adventist (SDA) church. The church has acknowledged that God also calls women and gives them His Spirit. They have received the same education as their male counterparts and are driven by the same Holy Spirit. They work, baptize, and preach with the same zeal as their male counterparts, yet they receive a different credential just because they are physically different. It is sometimes said that women are basically allowed to do whatever their ordained male colleagues are allowed to do. That should be enough for them. They should be satisfied with commissioning.
Commissioning for women and ordination for men – where is the difference? Since ordination is required for higher leadership positions, refusing to treat women equally denies them access to leadership. Women are allowed to work for the church, but they will never be able to take a leadership position as long as the working policy dictates that leaders must be ordained. The SDA Working Policy does not claim divine inspiration at its origin.
The North American Division introduced a new addition to its working policy on November 7, 2010. It now states that a leader should be ordained / commissioned.[2] Adopting this change in the General Conference Working Policy would easily solve the current problems concerning ordination. The laying on of hands – whether it be called ordination or commissioning – is a sign that the Holy Spirit has called and is working through the person in question. The Spirit is not dependent on the vocabulary used but is poured out equally on all. As long as God calls and blesses, the church should not restrict the scope of His calling.
The largest conference in the US is the only conference in the world that has a woman as president. Her ordination and vocation are not recognized by the General Conference. On October 27, 2013, Sandra E. Roberts was elected as the president of the Southeast California Conference and was re-elected by the delegates with a large majority at the end of 2018 following her first term. In the official yearbook of the church, this conference has a blank where the president of the conference should be mentioned. She is not accredited at official General Conference meetings and should not even be present. At such meetings she has no right to speak, or to vote. She does not have such problems in the North American Division.
General Conference President Ted Wilson, who was elected in 2010, asked retired President Jan Paulsen to present a devotional at the executive committee meeting on April 17, 2012. Paulsen took the opportunity to address the issue of women's ordination. He regretted that he had not been able to lead the church to a solution during his term of office. He said that women's ordination should be seen as a missiological concern that needs to be regulated according to the local culture. He even said, "Our leaders in California cannot make that decision for their colleagues in Africa; and our very accomplished mission church in South America cannot speak for struggling Europe."
The rejection of the ordination of women is justified by the decision of the General Conference in Session in 2015 in San Antonio. Prior to this meeting, a world-wide commission on ordination, the Theology of Ordination Study Committee, was put together. For two years, the best theologians of the church met regularly to study the question of ordination. They came to the conclusion that neither the Bible nor Ellen White comments explicitly on this.[3] The Bible does not differentiate between the laying on of hands in blessing and commissioning and ordination. In fact, ordination is not even a Biblical term. The way ordination is seen by church leadership is a relic of the catholic division between clericalism and laicism. The solution for the ordination problem is so easy: do away with it completely and commission all ministers.
Much money and energy was invested in this study but the commission's recommendations were simply ignored in the San Antonio vote. So it was no wonder that the majority of delegates spoke out against permitting the divisions of the church to settle matters according to their own needs. It was not about women not being ordained or working as pastors. It was simply about the fact that individual divisions are not allowed to make decisions according to their own needs in this matter. The disappointment was great, because exactly 20 years earlier an approximately identical request had failed. And yet for many there is no way back. It is sad that the opponents of women's ordination abuse this vote as a rejection of women in ministry. Nothing has changed. Women pastors are not ordained, but the Church has not turned away from their ministry. Yet, for a woman who works according to her calling by God, it is hard to cope with situations when men and women tell her, "When you preach, I will not come to your church. Women have no business being pastors." For many women pastors, such discrimination is very painful. Therefore, we are glad for any woman who courageously accepts the call of God to prepare for the ministry.
In the name of unity, a possible split in the church is now accepted as the "shaking," and punitive measures are introduced for organizations that are considered rebellious. A storm is brewing and leadership tries to enforce uniformity. But it is not caused by the question of the ordination of women, but by how the matter is dealt with by church leaders.
---
Theology of Ordination Study Committee (2012-2014) ↑
On November 7, 2010, the North American Division's Executive Committee added the word "commissioned" to the expression "should be an ordained minister" in order to read "should be an ordained/commissioned minister." ↑
https://www.adventistarchives.org/final-tosc ↑
---
Dear Adventist Today readers: I'm inserting this note to tell you that we are right now conducting our year-end fundraiser. Adventist Today is largely a volunteer organization, but if we're going to continue to provide you with stimulating news—often news you get nowhere else—and fascinating commentary by some of the best writers in the denomination, we do need some financial support. If you want to see us continue to do the journalism that you've been accustomed to from Adventist Today, become an AT member now or or give us a one-time gift. Loren Seibold, Executive Editor, Adventist Today website and magazine.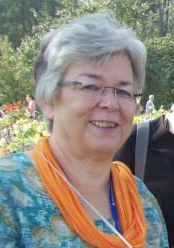 Hannele Ottschofski is from Finland, and has spent most of her life in Germany married to a pastor. She has served the church as a writer, educator, editor, conference speaker and translator. She was chosen by General Conference Women's Ministries as one of five to receive the 2019 Women of the Year Award. This essay is a translated excerpt from her recent book, Mit am Tisch: Frauen in der Freikirche der Siebenten-Tags-Adventisten (At the Table: Women in the Seventh-day Adventist Church).